Click here to download the full press release
A team of 10 colleagues and friends from Birmingham are hitting the streets this summer to raise money for cancer care charity, Dimbleby Cancer Care.
The group from the McMinn Centre, a pioneering hip resurfacing and knee replacement centre, will be joining broadcaster Jonathan Dimbleby and a host of walkers on Friday 5th June to take part in Dimbleby Cancer Care's 50/50/50 event - a 50km walk through London during the night that aims to raise £50,000.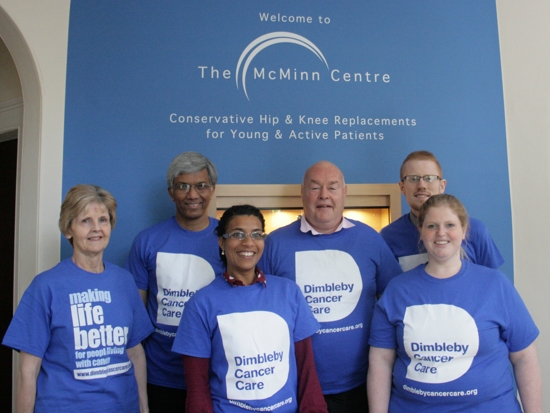 (L to R) The McMinn Centre Team: Pam Charles, Joseph Daniel, Hena Ziaee, Derek McMinn, Rob Knowles, Emma Carr
Dimbleby Cancer Care was set up in 1966 in memory of broadcaster Richard Dimbleby and is based at Guy's and St Thomas' hospitals in London. It gives practical and psychological support to people living with cancer and to their families and carers.

Derek McMinn, 61, Consultant Orthopaedic Surgeon and founder of the McMinn Centre said: "I first met Jonathan when I resurfaced one of his hips 11 years ago and the next one five years later so when he invited me and my team to take part in this exciting challenge I couldn't say no. I not only wanted to raise money for such a great cause but also wanted to see his new hips in action and see how they would stand up to such an endurance challenge.

"Cancer is something that has affected each and every one of us in one way or another and there was no hesitation in signing up to raise money for a charity that supports those with the disease, as well as those around them. It will also be a personal challenge for each of us to go the distance. We are aiming to raise £5,000 collectively as a team and we are over half way there already."

Joining Derek on the McMinn Centre team is Joseph Daniel, Hena Ziaee, Pam Charles, Emma Carr, Rob Knowles, Wayne Carr, Peter Allen, Philippa Gilmour and Chris Knowles. The team are all from the West Midlands area except Peter, another of Mr McMinn's patients with two resurfaced hips, who is visiting the UK from Singapore!

The event is an endurance challenge in support of the charity founded in honour of Jonathan's father, Richard, who died 50 years ago this year. Starting in the evening, the walk's route takes in famous London landmarks including Trafalgar Square, Buckingham Palace, the British Museum, the Tower of London, Canary Wharf and Greenwich. The event, which is sponsored by Leon, starts at St Thomas' hospital and finishes at Guy's hospital, the two hospitals where the charity provides its services.



Jonathan Dimbleby, Chair of Dimbleby Cancer Care added: "It is great that Derek and his team can join us for what will be a terrific event. With two Birmingham Hip Resurfacings (BHRs) performed by Derek himself, I will definitely make the distance – but if I don't I'll blame him! To be serious, I am extremely grateful for their support and I wish them all luck in reaching their fundraising goal."

All the money raised will go towards the charity's 'Care for the Future' appeal, which aims to raise £500,000 by the end of 2016 so that it can continue and expand its work within the cancer community.
If you wish to support the McMinn team, please visit:
https://www.justgiving.com/teams/McMinnCentre
Press Release supplied by BluebirdPR.
---

Monday 9th March 2015

Sian strikes Gold... again!
Badminton Masters Champion Sian Williams has given us an update on her sporting progress since her interview with us in 2014. Sian underwent
Birmingham Hip Resurfacing
(BHR) surgery with Mr McMinn in 2009 and
last year spoke to us about winning the Doubles Gold medal at the 2013 Badminton World Masters Championships in Turkey
.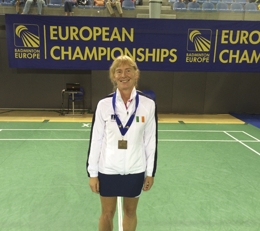 Ever active and always looking forward to her next challenge, Sian is fresh off the back of yet more medal wins at major Masters Championships. In September 2014, Sian competed in the Women's 50+ Singles tournament at the European Senior Badminton Championships in Caldas da Rainha, Portugal. After receiving a bye in the first round, Sian saw off English opposition in Linda Wood in the second round, with a score of 21-17, 21-17. In the third round, Sian faced a tricky tie against Ilona Kienitz from Germany. Losing the first game 15-21, Sian fought back to win the second and third games 21-19 and 21-18 respectively. This saw Sian go head to head with Lone Knudsen of Denmark. It was a close match which saw Sian narrowly lose 21-18, 21-17 and Knudsen go on to win gold in the final. Having been used to playing in Doubles matches, a bronze medal is a fantastic achievement for Sian at European Masters level.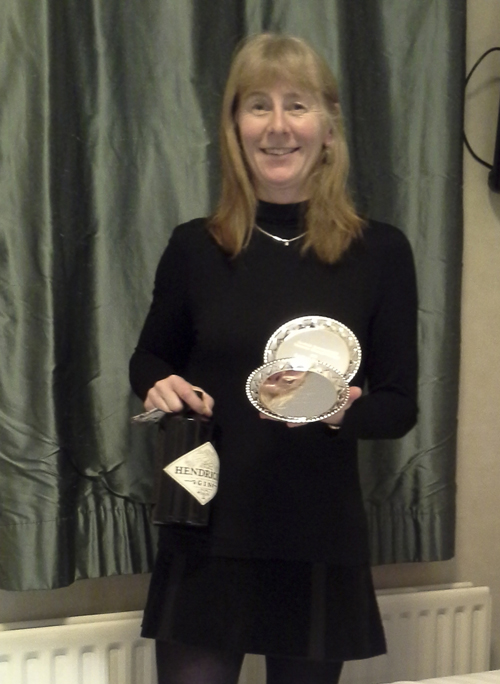 January saw Sian enter another tournament, the 2015 Yonex Scottish International Seniors Championships held in Largs, Scotland. Competing in two events in both a Singles and Doubles capacity, Sian picked up two more medals to add to her impressive collection. In the Women's 50+ Singles event, Sian played Gitte Hojlund and racked up a comprehensive victory of 21-12, 21-5 to claim the Gold medal. With Doubles partner Kay Vickers, Sian played in four matches in the Women's 50+ Doubles event. It was another convincing performance, with Sian and Kay dominating and winning all four matches adding another gold medal to Sian's impressive collection.
Sian really is a fantastic example of how Birmingham Hip Resurfacing (BHR) surgery with Mr McMinn can enable patients to return to the activities they love and we would like to congratulate Sian on her impressive achievements and wish her the best of luck in all future competitions!
See Sian's tournament progress here:
European Senior Championships
;
Yonex Scottish International Seniors Championships
---

Thursday 5th February 2015

A thank you message from a 'delighted' patient!
At the end of January 2015, Gareth Quarry underwent a Birmingham Hip Resurfacing (BHR) operation performed by Mr McMinn at BMI The Edgbaston Hospital. Gareth has since written to The McMinn Centre full of praise for Mr McMinn, his team and the ward staff at BMI. See his message below:
"Dear Mr McMinn, Mr Daniel, Senior Nurse Shinton, Sue Day (Physio), Sister Carol, HCA Delia, RMO Nasco, Hena, Pam, Meryl, and all the BMI Edgbaston Ward day and night nursing staff who looked after me during my right BHR last week,
I cannot praise highly enough the entire team around Mr McMinn and Mr Daniel.

From my initial introductory telephone conversation with Pam Charles two months ago, through to my release last Thursday following Tuesday's surgery, you have all been an absolute delight. A team in which I have had the utmost confidence throughout, a team that has shown itself to be flexible to be able to create an operating slot to position my surgery perfectly between my father's 90th birthday celebrations and (hopefully!) my trip to South Africa in two weeks' time. Thank you for all the care and attention you have shown. May the McMinn and BMI Edgbaston team long continue to thrive!" - Gareth Quarry
From everyone at the McMinn Centre, we'd like to thank Gareth for his message and wish him all the very best.
---

Monday 5th January 2015

Happy New Year and Hippy Fifteenth Anniversary from Hans Rader!
On the 5th January 2000, Hans Rader underwent left Birmingham Hip Resuracing (BHR) surgery with Mr McMinn - the first BHR of this Millennium! Fifteen years to the day, Hans has sent us the following update:
"I shall be celebrating my BHRs 15th birthday on Monday on the tennis court, thinking of Mr McMinn & his team in gratitude, having played some 100 games of tennis every week since April 2000. That's a total of about 75,000 games since the operation – without ever suffering the slightest twinge of pain!
It may be of passing interest that my wife, Hannelore, had a left Total Hip Replacement (THR) by Mr McMinn personally in February 2009 and that she has never had the slightest problem with it since. Sadly, she had to give up tennis after a shoulder replacement elsewhere which did not turn out quite so successful."
We'd like to thank Hans for his message and send our congratulations for reaching this milestone whilst continuing to live an active and pain free life.
If you'd like to share your story, please email
RobKnowles@mcminncentre.co.uk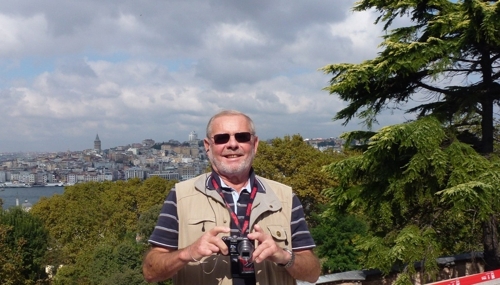 Hans Rader at Topkapi Palace, Turkey, October 2014
---


Like us on Facebook


Follow us on Twitter

Follow us on Google+
So make sure to like and follow our social media feeds above to join in with our 2014 review and countdown to Christmas!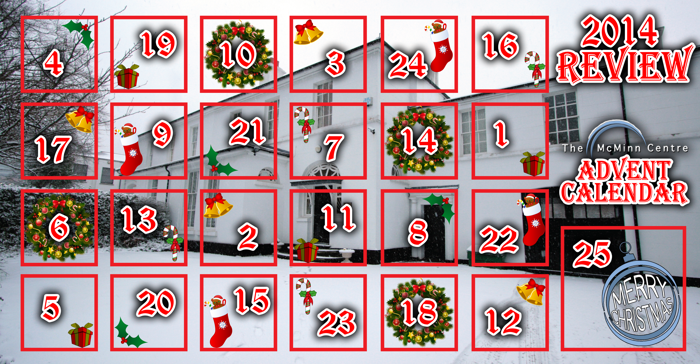 ---

Wednesday 30th July 2014

Hippy 17th Birthday!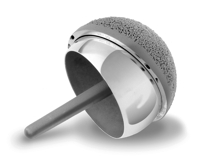 The Birmingham Hip Resurfacing (BHR) is celebrating being in clinical use for 17 years today. Since then the BHR has been implanted over 150,000 times and is widely recognised as the most successful hip resurfacing device.

Having implanted two more in theatre yesterday Mr McMinn has implanted in excess of 3600 BHR's and changed the lives of many, enabling them to get back to pain-free, active lifestyles. Mark Edwards was just 38 years old when he received the world's first BHR on July 30, 1997. Two years ago we caught up with Mark and his progress 15 years after his surgery, click here to watch Mark's BHR interview.

The Birmingham Hip Resurfacing was introduced by Mr McMinn as a solution to painful, arthritic hips suffered in people deemed too young for a traditional Total Hip Replacement. The bone-conserving design retains the majority of the bone with only a few millimetres from each articulating surface being removed. This allows for better anatomical matching, stability and range of movement, the BHR's design has remained unchanged since its first implantation.

---

Monday 17th February 2014

Half a million views and counting!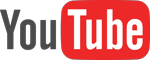 The McMinn Centre's
YouTube channel
has amassed an impressive 500,000 video views, almost six years to the day since its creation in February 2008. The channel contains a wide range of videos including patient interviews, web lectures and surgery footage.
---

Friday 29th November 2013

New publication confirms lower mortality rate with hip resurfacing.

A new publication by an independent group has confirmed what an earlier paper from The McMinn Centre said. The paper published by the BMJ, confirms that mortality rates are lower with hip resurfacing than when compared to uncemented and cemented Total Hip Replacement (THR).

As you may know, in June 2012, we published a paper showing that BHR had a lower mortality risk compared to THR. As we acknowledged at the time, our study was constrained by a limited number of confounding variables being available, click here to read our paper. On 27th November an orthopaedic group in Oxford published their paper, again in the British Medical Journal and with much more detailed confounding variables available, showing exactly the same conclusion. Click here to read the paper from Oxford.

Another recent publication shows better function with hip resurfacing compared to THR, click here to read the function paper. Our fifteen year analysis shows that Birmingham Hip Resurfacing has a low failure rate, watch our lecture here.

The conclusion of all these analyses is that Birmingham Hip Resurfacing (BHR) has a low failure rate, has better function than Total Hip Replacement (THR) and has the lowest death rate of any hip arthroplasty operation available.

---

Monday 16th September 2013

BHR Sian strikes gold at Badminton World Masters.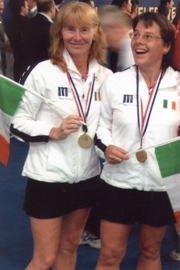 Irish Badminton player Sian Williams underwent right Birmingham Hip Resurfacing (BHR) surgery performed by Mr McMinn in 2009. Since the operation, Sian has returned to full fitness, competing in a number of international tournaments. This month, the 2013 World Masters Badminton Championships were held in Ankara, Turkey, in which Sian and her doubles partner Pam Peard went head-to-head with professionals from around the world.

The dynamic duo saw off the number two and three seeds on the way to booking their place in the final against number one seeds Lone Hagelskjaer Knudson of Denmark and Mei-Ying Lee of Chinese Taipei. In a close fought match, Sian and Pam battled to victory and won the Gold – becoming World Masters Badminton Doubles Champions.

Watch Sian talk about her BHR experience and winning gold!

Final Score in the Women's Doubles 50: Pamela Peard/Sian Williams (IRE) beat Lone Hagelskjaer Knudsen/Mei-Ying Lee (DEN/TPE) 22-20 16-21 21-19.

Click here to see Sian and Pam's tournament progression.
Well done Sian on your impressive achievement!

---

Monday 5th August 2013

Drive Aid – Stephen Kimbell is going the extra mile to help make a difference.
This month Stephen Kimbell, a friend of Mr McMinn, is embarking on another lengthy journey to Romania in order to deliver vital supplies to orphanages and those in need. Mr McMinn feels strongly about the cause and, having sponsored Stephen in the past, he has sponsored him again for his 2013 trip.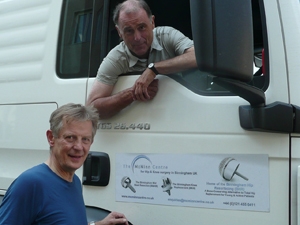 Stephen is the director of Greenspire, a corporate finance and strategic advisory service based near Milton Keynes. He has been supporting a range of Romanian children's charities for a number of years by undertaking trips to deliver lorry loads of donated aid to orphanages in the east of the country. Romania suffered economic meltdown until the end of the Ceausescu regime in 1990. Over the last few years, this position had been improving and membership of the EU had certainly helped. However, the economic crash has set development back significantly and, as always, it is the most vulnerable who suffer most in such circumstances.

"While it is always hard work, it is always very rewarding. The orphanages are infinitely better places and I am always delighted when I see adults with families whom I remember seeing as orphan children with nothing at all." says Stephen, who has been making the trips for over 20 years.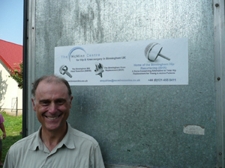 The journey will take twelve days and require 1,500 litres of diesel to complete. The lorry will be full of much needed food, clothes and medical supplies which will be delivered to several orphanages in Romania. There are around twenty sponsors contributing to the charity fund and Mr McMinn is more than happy to be sponsoring such a worthwhile cause.

For more information of the charity and how it makes a difference, please visit the following links:
http://www.bigginhillromaniagroup.com/
http://www.cryinthedark.org/

See the October 2013 Greenspire newsletter here.
---

Tuesday 3rd July 2013
New Lecture Video - 'BHR & Other Options'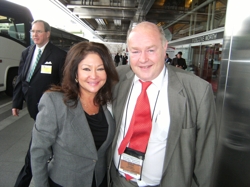 Mr McMinn has recorded a brand new lecture and wanted his patients to be the first to know about it. The lecture titled 'BHR and Other Options' has been released as a tribute to the late Vicky Marlow. Vicky was a fantastic voice and advocate for support of Hip Resurfacing. Using her website and forum Vicky worked tirelessy to inform 100s of patients about the benefits of Hip Resurfacing.

The recent lecture looks at the results of Mr McMinns first 1000 Birmingham Hip Resurfacing (BHR) patients at 12-15 Years and talks about his experiences within that cohort, also comparing the group with the results of joint registries around the world.

The lecture is full with the latest results, information and ideas from the hip resurfacing and hip replacement world and really is a must watch for all patients and former patients.

Watch the BHR & Other Options lecture here.


---

Thursday 6th June 2013

Ten Years of The McMinn Centre!
Today marks the tenth anniversary of The McMinn Centre, established in 2003, the centre provides a permanent base for
Mr McMinn's
surgical, teaching and research work, and is the first point of contact for patients looking for conservative joint replacement. Based in the Birmingham's Edgbaston Medical Quarter, our dedicated team work together to provide an unrivalled and personal service to hip and knee replacement patients from around the world.
Derek McMinn is the pioneering surgeon behind the
Birmingham Hip Resurfacing
(BHR) and several other orthopaedic implants, such as the
Birmingham Mid Head Resection
(BMHR) and the
Birmingham Knee Replacement
(BKR). Operating locally from BMI The Edgbaston Hospital, Mr McMinn has operated on more than 2500 patients in the last 10 years alone, whilst holding countless consultations and follow up appointments.
Read more about the anniversary and The McMinn Centre
here
.
---
Friday 3rd May 2013
Ian's 1200 mile End 2 End Walk!
Yesterday The McMinn Centre Media Department met up with bilateral Birmingham Hip Resurfacing (BHR) patient Ian Cheal. Ian is currently a third of his way through a 1200 mile End 2 End walk. Setting off from Land's End at the start of April, we caught up with him near Ironbridge, Shropshire, though he won't reach John O'Groats and finish the walk until the end of June!

Ian is doing brilliantly and is thoroughly enjoying the walk. You can follow Ian's journey as he updates his blog every day, read his blog here.

Ian was kind enough to take a break from walking a give us a video interview. You can watch Ian talk about the walk and his experience with The McMinn Centre and the BHR here.

---

Wednesday 24th April 2013
Hip Resurfacings Lead To Success On The Slopes for Colin!
Bilateral BHR patient and Alpine skier Colin Tucker came ninth in this seasons International Ski Federation (FIS) Masters Cup. The international championship featured 81 competitors from 16 different countries. Reflecting on a successful campaign Colin said: "It's been my best season by far!"

Please view the full story here.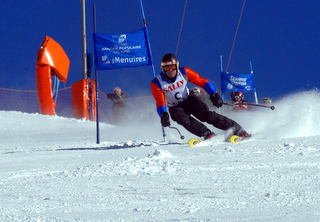 ---
Monday 18th March 2013
J&J Must Pay $8.3 Million Over Defective Hip, Jury Says
Mr McMinn comments on the recent DePuy court case outcome in the US. Having voiced his concerns about the poorly designed implant since 2005, in this article he reaffirms his opinions. Please click here to read to the full ASR story.
---

Friday 4th January 2013
Birmingham Hip For ITV's Bob Warman
Mr McMinn made an appearance on ITV Central News tonight after local news presenter Bob Warman had his very own BHR. Please click here to view the Central News report.

---

Wednesday 26th September 2012
Pseudotumours with Metal-on-Cross linked Polyethylene Total Hip Replacements
We have been aware of the formation of pseudotumours in patients fitted with polyethylene containing total hip replacements for some time. Far from being a problem affecting only metal-on-metal articulations as the mainstream press insist, pseudotumours can also arise from excessive wear in total hip replacements (THRs) which use metal-on-polyethylene articulations. The stems in these THRs have modular junctions from where metal wears and releases ions and particles. Debris produced by this wear can cause high metal ion levels, leading to pseudotumour reactions in some patients.
US patients implanted with Stryker's Rejuvenate and ABG II hip systems - with metal-on-cross linked polyethylene articulations - have experienced extreme pseudotumour reactions, resulting in revision surgery little more than eight months after their original surgery. Lawsuits have since been filed against Stryker by the patients who are suffering. Lawyers representing these patients say, "Stryker marketed its devices as an improvement over and alternative to other metal-on-metal hip implants when in fact these systems have caused significantly more severe injuries than comparable systems on the market."
Click here to view the article.
---
Monday 30th July 2012

Mr McMinn Celebrates 15 Year BHR Anniversary
On July 30th 1997 Mr McMinn implanted the world's first Birmingham Hip Resurfacing (BHR), making today the 15 year anniversary of the BHR!

Please view the full story here.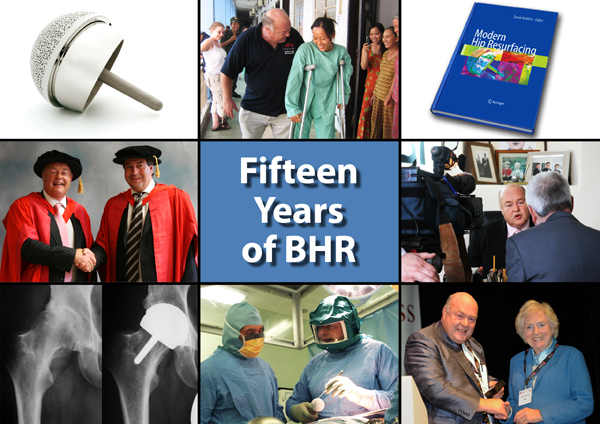 ---
Tuesday 10th July 2012

BHR Patient's 4,000 Mile Cycle Ride in Aid of Macmillan Cancer Support

Roderick Drew had bilateral BHRs with Mr McMinn back in 2002. To raise money and awareness for Macmillan Cancer Support, Roderick has decided to cycle 4,000 miles with the Olympic Torch on its 70 day journey through the UK.

We caught up with him on day 43 as he passed through Birmingham. Read the full story and see an interview with Roderick here.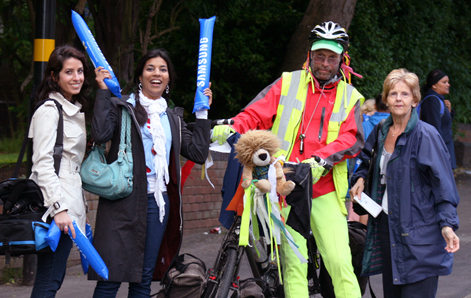 ---
Wednesday 29th February 2012

Response to new MHRA Guidelines on MoM Total Hip Replacements

There have been several press reports regarding the new MHRA (Medicines and Healthcare products Regulatory Agency) guidelines on metal-on-metal (MoM) hip replacements. We have had a number of enquiries from concerned patients. We have also been receiving calls and emails from patients who have enjoyed excellent quality of life following their BHRs - in some cases, performed over 10 years ago. These patients are understandably very angry that BBC Newsnight, amongst others, has produced such a biased, one-sided story leaving hundreds of people unnecessarily "terrified of poisoning, cancer, yearly blood tests and possible surgery to remove the metal hip," as one of our patients puts it.

The Newsnight report from 28.02.12 and the updated MHRA Alert relate specifically to large diameter MoM total hip replacements (THRs). These types of THRs sometimes suffer failure at the "taper junction" - between the femoral head (ball) and the stem of the implant. As a result of taper failure, metal ions are released causing adverse reactions in certain patients. Most modern THRs including those manufactured from metal, ceramic and polyethylene, have taper junctions. Metal release is not specific to MoM THRs, however and has been reported from taper junctions in all types of THRs including ceramic and polyethylene types also.

Birmingham Hip Resurfacing (BHR) Patients

The BHR does NOT have any taper junction and is therefore completely free of metal release from taper problems. If you have had a BHR, you are at no risk of taper wear and metal release from taper junctions. The BHR is a MoM joint, but the metal release from well-implanted BHRs is very low. The McMinn Centre continues to follow-up cohorts of patients in several ongoing longitudinal metal ion studies and we find no cause for concern either locally, in the region of the joint, or systemically. The MHRA does not recommend routine metal ion testing or imaging for asymptomatic patients with BHRs.

MoM Modular Total Hip Patients

Mr McMinn does not use MoM THRs unless absolutely necessary. Some patients are however, most suitable for a metal-on-metal THR due to their specific clinical circumstances. In such patients, Mr McMinn sometimes finds it necessary to use a BHR-type cup and modular head on a Smith and Nephew titanium total hip stem. He has not seen any taper junction problems in his series of MoM hip replacements. Analysis of the NJR's (National Joint Register of England and Wales) data shows that the BHR type modular THRs performed with Smith and Nephew titanium stems have good results. In Mr McMinn's own series of MoM THRs, the success rate is 99% at 5 years and 98% at 10 years.

For further reassurance, please find below some related links you may be interested to read.

• The McMinn Research Team's detailed response to list of questions on metal-on-metal implants & metal ions provided by hip resurfacing users here
• A debate in which Mr McMinn compares the BHR to the now recalled ASR resurfacing device here
• A three-part video interview in which Mr McMinn addresses the negative comments about MoM hips here
• The McMinn Centre's response to a Channel 4 documentary on metal-on-metal hip replacements here
• An interview with a female patient who has had her metal-on-metal Total Hip Replacement for well over 40 years here
• An interview with a patient who has had his well-functioning metal-on-metal hip resurfacing for 20 years here

Please also see the new MHRA guidelines here

If patients have any further concerns and would like to speak to a member of our team about this matter, please call us on 0121 455 0411.

---
Saturday 4th February 2012
10th Annual Surface Hippy Gathering

On Saturday, Mr McMinn and his team attended the 10th Annual Surface Hippy Gathering in Santa Clara, California. The event, organised by hip resurfacing advocate Vicky Marlow, gives patients an opportunity to speak face-to-face with leading orthopaedic surgeons.

Mr McMinn and his team presented their ongoing research work, specifically addressing the recent negative press surrounding Metal-on-Metal hip implants and debunking some of the many media myths. Mr McMinn's presentation culminated in showcasing his new hip implant technology.

The gathering was a massive success and the 80 plus attendees enjoyed the day immensely. The meeting was followed by dinner and drinks at Birk's restaurant. We would like to take this opportunity to say a huge thank you to Vicky for arranging and overseeing the day.

Next on his agenda, Mr McMinn travels to San Francisco ahead of the AAOS (Academy of Orthopaedic Surgeons) Annual Meeting.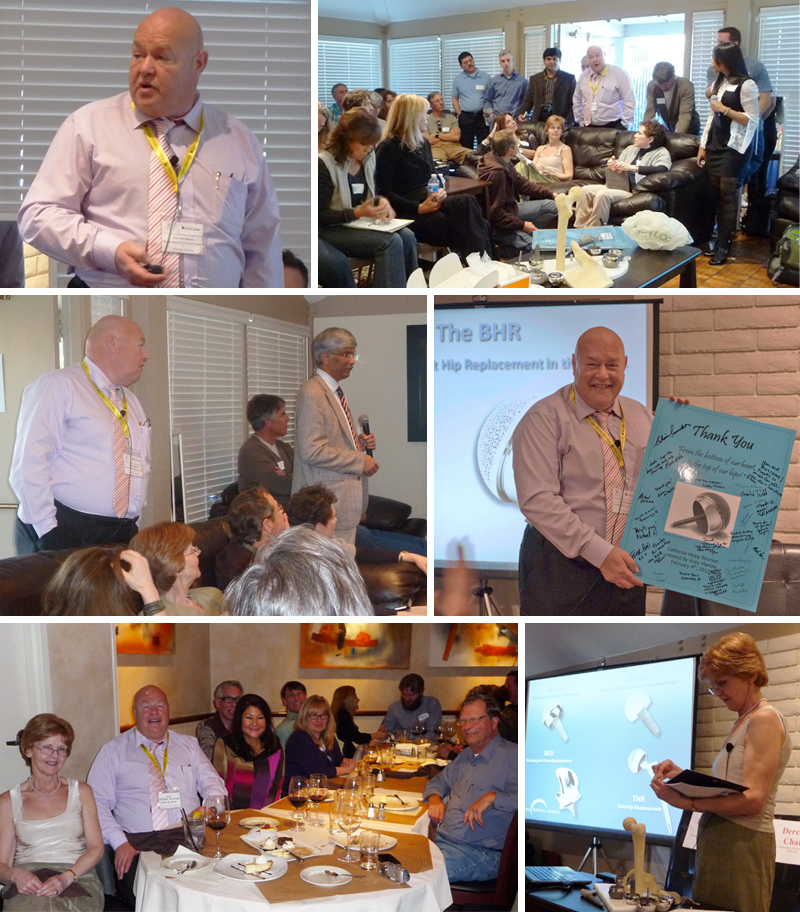 ---
1st February 2012

Metal-on-Metal Implants - Addressing the Negative Press

We have been receiving phone calls following recent press reports on failed metal-on-metal hip implants. We understand these sensationalist stories may cause anxiety among some patients. However, we would like to reassure our patients that these reports mostly concern failures with the DePuy ASR and the DePuy ASR XL, not the Birmingham Hip Resurfacing (BHR).

Many press reports imply these failures relate to all metal-on-metal hip resurfacings. A patient featured in a recent Daily Mail article, like many others, had a failed ASR. A critical point, omitted from the print version of the Daily Mail, can be found in the full online version. As well as her ASR, the patient had a BHR on her other hip. She comments, "I've never had a minute's trouble from the Birmingham hip – if only I'd had it on both sides."

High failure rates with the ASR and ASR XL have been widely documented. Both devices have now been withdrawn from the market. Research indicates the side effects, such as muscle damage, are specific to the ASR and do not apply to the BHR which is a very different device.

Earlier this week, the MHRA (Medicines and Healthcare products Regulatory Agency) issued another statement about metal-on-metal hips, in which they say, "On the evidence currently available the majority of patients implanted with metal-on-metal hip replacements are at low risk of developing any serious problems."

In addition to the MHRA's guidance, we wish to emphasise that Mr McMinn's results with the BHR show a 97% survival in men and women of all ages at 14.5 years. Furthermore, excellent results with the BHR have been documented in National Joint Registers from around the world.

Sadly, these ASR failures come as no surprise. Mr McMinn has been warning about the device since it went to market in 2003. You can see Mr McMinn's argument against the ASR here. Furthermore, The McMinn Centre has put together several resources which address patients' concerns and the differences between the ASR and BHR designs. These resources are as follows:

• The McMinn Research Team's detailed response to list of questions on metal-metal implants & metal ions provided by hip resurfacing users here
• The McMinn Centre's response to a Channel 4 documentary on metal-metal hip replacements here
• An interview with a patient who has now had his McMinn metal-on-metal hip resurfacing for 20 years here

If you do have any concerns, please call The McMinn Centre on 0121 455 0411or email us at enquiries@mcminncentre.co.uk.

---
24th January 2012
All The Threes - Mr McMinn Reaches 3333rd BHR Milestone
On Tuesday, Mr McMinn reached a momentous milestone in his surgical career – implanting his 3,333rd Birmingham Hip Resurfacing. To mark the occasion, Mr McMinn invited colleagues from The McMinn Centre, Smith & Nephew and The BMI Edgbaston Hospital for an impromptu shindig at Bindles Brasserie in Worcester.
"I was so thrilled and surprised to reach this landmark number, I just had to go out and celebrate with colleagues who have made this all possible," Mr McMinn commented. "The fact that my patients are doing so well and that the BHR has a 97% success rate at 14 + years in my practice, is a tremendous reward for everyone involved in this development."

The news comes at a crucial juncture as more and more patients are demanding highly experienced surgeons to perform their hip procedures. Before dinner, Mr McMinn gave a short presentation about the history and success of the BHR and the future of hip arthroplasty.

The milestone precedes another exciting occasion on the 2012 calendar – the 15th Year Anniversary of the Birmingham Hip Resurfacing procedure, which we will be reporting on this summer .

View a selection of photos from the evening below: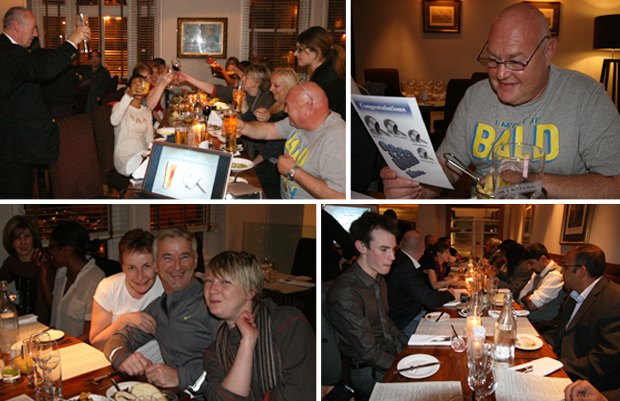 ---

10th December 2011
McMinn Centre Christmas Party - On Saturday, Mr McMinn and a group of nearly 70 colleagues celebrated Christmas in style at the recently launched Bindles brasserie in Worcester.
After dinner entertainment was provided by Liverpudlian stand-up Stan Boardman – himself one of Mr McMinn's hip resurfacing patients – and former member of The Fortunes, Shel MaCrae.
The night was immensely enjoyable and Stan – now celebrating 10 years with his Birmingham Hip Resurfacing (BHR) – showed everyone his dancing prowess by boogie-ing to a number of Fortunes hits.
View a selection of photos from the night below.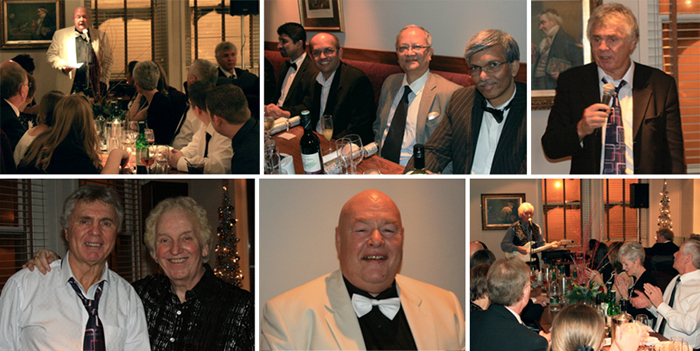 ---
X-Factor Contestant Thrilled with his Bilateral Birmingham Hip Resurfacings (BHRs) - We are delighted to report that one of Mr McMinn's patients Wagner Carrilho (of X-Factor fame) featured on the ITV Central News program tonight. Wagner, who had bilateral hip resurfacings with Mr McMinn 12 years ago, continues to thrill crowds with his performances, including his signature piece, the Hippy Hippy Shake.
Check out the full interview below.


Read more about X=Factor's Wagners hip resurfacing experience here.
---
1st March 2011
Mr McMinn Celebrates 20 Years of Metal-on-Metal Hip Resurfacing - Today Mr McMinn and a group of his closest colleagues celebrated the 20th anniversary of Metal-on-Metal Hip Resurfacing. In February 1991, Mr McMinn implanted the world's first Metal-on-Metal Hip Resurfacing, eventually leading to the development of the Birmingham Hip Resurfacing (BHR). The BHR procedure has since become a global phenomenon, restoring the quality of life in thousands of patients all over the world.
After a busy day in surgery, Mr McMinn was led to a surprise party to honour this auspicious occasion.
Of course, Mr McMinn continues to push the boundaries in hip and knee replacement. But it was important to acknowledge two decades of his vision and technical innovation which has transformed the lives of so many patients.
A selection of images from the day can be viewed below.
Click on the thumbail for the enlarged view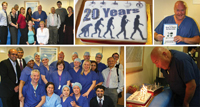 ---
09th February 2011
Body Building Birmingham Hip Resurfacing (BHR) Patient features on Surface Hippy Website - Five-time WFF Body Building Champion, two-time WFF Mr Universe and action movie star Mike Mitchell talks about his recovery following a BHR surgery by Mr McMinn.

Mike was kind enough to let The McMinn Centre meet up with him on the set of his latest film. You can watch Mike on set and talking about his hip resurfacing surgery here.
Please follow the link to Surface Hippy to find out more:
Mike Mitchell on Surface Hippy

---
13th September 2010
An Evening with Derek McMinn - On Thursday 2nd September 2010, Mr McMinn welcomed an audience of GPs and Physiotherapists to a special evening of lectures at the Elmhurst School for Dance in Edgbaston.

The audience was invited to hear Mr McMinn and his team talk about their vast experience in hip and knee replacement surgery, with a focus on hip resurfacing, and to discuss a range of current hot topics.

We were delighted to have Dr Sam Mukherjee a respected local GP chair the event. Presentations were also given by McMinn team members Chandra Pradhan, Joseph Daniel, Imran Ahmed and Hena Ziaee.

The night was a huge success and Mr McMinn rounded off proceedings by signing copies of his book 'Modern Hip Resurfacing' for delegates. A selection of images from the event can be viewed below.

Click on the thumbail for the enlarged view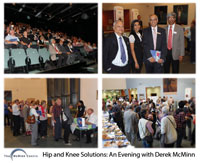 ---
12th September 2010
Mr McMinn Named as one of the UK's Leading Hip Surgeons - We are delighted to report that Mr McMinn has been named by peers as being amongst the UK's top hip joint replacement surgeons in a survey conducted by the Daily Mail.
The article is available from the link.
---
14th June 2010
Derek McMinn Interviewed on Surface Hippy Website - Derek McMinn was recently interviewed by Vicky Marlow from the Surface Hippy website. In these video interviews, Mr McMinn discusses a range of topics on Hip Resurfacing including device designs, the importance of component positioning and the recent MHRA Alert for Metal-on-Metal bearings.
Please click here to access the videos, available in 3 parts.
---
05th May 2010
Response to MHRA Alert - Please see the link below for The McMinn Centre's response to the recent MHRA guidelines regarding metal-on-metal hip resurfacings and hip replacements.
Click here to view the article
---
12th April 2010
Research Publications and Proceedings Update - Please see the link below for a list of Publications and Proceedings from The McMinn Centre.
Click here to view the article
---
08th June 2009
Live surgical webcast of Birmingham Hip Resurfacing - Derek McMinn will demonstrate a Birmingham Hip Resurfacing procedure from Spire Little Aston hospital during a LIVE satellite transmission to the USA on Friday 12th June 2009. The transmission will be available to view online as a live webcast, commencing at 15.15 BST (British Summertime).
Click here to navigate to the media player for the webcast.
---
21st January 2009
'Modern Hip Resurfacing' Book Release - The much anticipated book by Derek McMinn is due for release in February 2009. 'Modern Hip Resurfacing' is an account of Mr McMinn's experience with hip resurfacing and an effort to educate orthopaedic surgeons on the lessons that he and his colleagues have learned over the past 18 years. The book includes contributed material from an assembled team of experts in all aspects of the resurfacing procedure, from materials science to the surgical procedure itself. Accompanying the book is a DVD with over 3 hours of video material, which includes footage of surgical procedures narrated by Mr McMinn himself as well as a documentary looking into the history behind hip surgery at the Wrightington Museum.
More information about the book can be found by clicking here.
---
11th December 2008
New Surface Hippy website - Patient advocate Vicky Marlow founded the Surface Hippy website following her hip resurfacing surgery in 2005. The site is an extension of the Surfacehippy Yahoo Groups message board.
The new site can be visited by clicking here.
---
04th June 2008
Hip resurfacing pioneers Derek McMinn & Ronan Treacy honoured by Birmingham Mayor - News article from the Birmingham Mail, 4th June 2008.
Click here to view the article
---
14th April 2008
McMinn Centre videos now available on YouTube

- The video material included on this website is now also available to view on YouTube, where video material is continually being added.
Click here to navigate to our YouTube Channel - don't forget to subscribe for regular updates!
---
30th July 2007
BHR 10 year anniversary - It is 10 years today since the implantation of the first Birmingham Hip Resurfacing (BHR). Since then over 70,000 have been implanted worldwide, and Derek McMinn has implanted more than 2,800 himself. In May 2006 the FDA gave approval for the Birmingham Hip Resurfacing to be used in the USA, making it the first metal-on-metal hip resurfacing prosthesis to be granted approval.
---
10th May 2007
McMinn Centre patient notches up running milestone - News article on Bob Emmerson, McMinn Centre patient, who has completed nearly 4,000 miles since his Birmingham Hip Resurfacing operation.
Click here to view the article
---
22nd March 2007
Derek McMinn responds to Corin CEO comments - "Birmingham Hip Resurfacing Inventor McMinn gives Corin and Stryker the 'Heat Treatment'"...
Derek McMinn responds to comments made by CEO for Corin, Ian Paling, relating to Anna Benson-Gyles' witness submission to the FDA Advisory Panel last month. This was published in the online subscription magazine, 'Orthopedics This Week'.
Click here to view the PDF document of Ian Paling's initial comments followed by Mr McMinn's response.
---
23rd February 2007
Anna Benson - Gyles gives witness statement against the Cormet 2000 resurfacing device at the FDA Advisory Panel Meeting - Anna Benson-Gyles submitted a witness statement to the FDA prior to the panel meeting concerning the Cormet 2000 resurfacing device, which took place in Washington DC on the 22nd February 2007.
---
12th July 2006
BBC West Midlands Radio - David Walker talks about his success at the Judo Masters Championships on BBC West Midlands radio, following his bilateral hip resurfacings. He won a bronze medal in the competition.
Click below to listen to the audio
---
27th February 2006
Woman Magazine - After Lorraine Birch suffered from osteoarthritis, she took advice from a friend who suggested the Birmingham Hip Resurfacing. After having her hip joint resurfacing operation she was able to return to her job and resume her main pastime playing golf.
Click here to download the article in PDF format
---
03rd November 2005
Hospital Doctor Magazine - Last year Derek McMinn was a finalist for the Innovation category of the 2005 Hospital Doctor Awards, which celebrate clinical excellence and innovation in hospital medicine.
Click here to download the article in PDF format.
---
04th July 2005
Patient with Bilateral Birmingham Hip Resurfacings climbs Kilimanjaro - William Scott-Aiton, along with 25 other individuals, trekked to the summit of Uhuru Peak, Tanzania. They covered 80km, ascending to 19,500 feet over six days. The expedition raised �57,000 for Hazel's Footprints Trust, which helps people to work voluntarily with individuals in less privileged places around the world.
Click on the thumbail for the enlarged view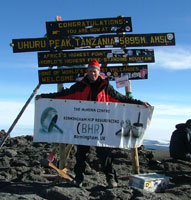 ---
15th August 2002
The Daily Mirror - An article about Karen Ricketts, who after having a BHR went on to have a family, despite being told previously that her bones wouldn't allow her to have children.
Click here to download the article in PDF format.
---
07th July 2001
The Squash Player Magazine - High impact sports, coupled with hereditary causes, meant that ex-professional squash player Jonah Barrington and all round sportsman Freddie Menzies suffered from osteoarthritis. They both went on to have bilateral Birmingham Hip Resurfacings.
Click here to download the article in PDF format.
---
1st April 2001
Cheshire Life Magazine - A running article featuring one of our previous patients George Dobson who is displaying his ability to run regularly despite his artifial hip joint replacement, the BHR.
Click here to download the article in PDF format.
---
01st December 2000
The Rambler Magazine - A group of 'hippy' ramblers try out their new hips on an expidition in CapelCurig, Wales.
Click here to download the article in PDF format.
---
22nd June 2000
Harlepool Mail - Having an active sporting lifestyle meant that this patient wasn't willing to undergo a traditional hip replacement, and after seeing a report about the Birmingham Hip Resurfacing on television, he decided that it was the right choice for him.
Click here to download the article in PDF format.
---
15th March 2000
LMA Mail - An article interviewing football manager, Lawrie McMenemy about his experience of having both his hip operations. Lawrie took part in a hip resurfacing case study video available here.
Click here to download the article in PDF format.
---
07th January 2000
The Times - Jonah Barrington talks about the rigorous training schedule he underwent at the height of his squash career, and talks about why he was happy to have a Birmingham Hip Resurfacing after refusing the hip replacement options available to him.
Click here to download the article in PDF format.
---
12th December 1999
Daily Mail Good Health - Jonah Barrington talks to the Daily Mail about his hip operation experience performed by Derek McMinn. For more information, you can watch Jonah fully recovered in this interview.
Click here to download the article in PDF format.
---
07th June 1999
The Telegraph - An article from the Telegraph, which highlighted the 5 year follow up results of the resurfacing technique.
Click here to download the article in PDF format.
---
20th May 1999
The Scotsman - A newspaper article about the introduction of replacement hip surgery implant, the Birmingham Hip Resurfacing (BHR) and surgeons learning the operation.
Click here to download the article in PDF format.
---
12th July 1998
Brighton Local Paper - Desmond Turner is the Labour MP for Brighton Kemp Town. Since having his hip resurfacing operation, he has been able to return to full mobility at work. For more information, you can watch Des in a hip resurfacing video interview here.
Click here to download the article in PDF format.
---
28th October 1997
The Daily Mail - An article introducing hip surgery implant, the Birmingham Hip Resurfacing (BHR) using Don Laight as a case study.
Click here to download the article in PDF format.
---
02nd June 1996
The Times on Sunday - An article initially introducing the BHR (Birmingham Hip Resurfacing) as a new innovative hip joint replacement product.
Click here to download the article in PDF format.
---
15th August 1989
Birmingham Post - A Pre-BHR press article about how Derek McMinn performed multiple hip, knee, elbow and foot operations on a lady in the West Midlands.
Click here to download the article in PDF format.
---
You will need to have the FREE Adobe Acrobat Reader installed on your system to view this document. Download the Reader by clicking on the Acrobat icon below.