Total Hip Replacement (THR)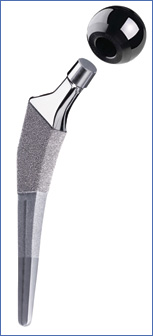 Total Hip Replacements (or THRs) have been used to treat hip arthritis for many decades and are some of the most tried and tested forms of orthopaedic intervention.
There are factors which make some patients unsuitable for conservative hip operations like a Birmingham Hip Resurfacing or a BMHR. In the absence of these options, Mr McMinn will use a total hip replacement to treat the existing hip condition.
In many cases, Mr McMinn performs a total hip replacement if a patient's femoral head bone has become very brittle or where there has been severe bone loss. There are also anatomical conditions such as severe hip dysplasia or severe Perthes disease which make conservative options unsuitable for certain patients.
Mr McMinn will often suggest a total hip replacement for older patients who have less demand for activity after surgery. It is this demographic who form the largest proportion of THR users.
Generally speaking, a THR usually consists of four components - a stem, a femoral head (ball), an acetabular cup and a cup liner. The THR procedure involves resecting the head and neck of the femur and implanting a metal stem down the shaft of the femur. The acetabular socket is reamed to make way for a metal shell with cross-linked polyethylene liner.
Depending on surgeon preference, there are many different materials and component combinations that may be used for THR. Mr McMinn's preferred choice is an uncemented, titanium alloy, Anthology stem (pictured above). The Anthology stem is fitted with an Oxinium femoral head component which articulates inside a cross-linked polyethylene cup liner (see diagram, right). It is essential that there be low friction between the head and cup liner to reduce wear, the build up of polyethylene particles and subsequently, the risk of implant failure. Smith and Nephew Orthopaedics recently developed Oxinium to meet this bearing requirement.
Comprised of oxidized zirconium, Oxinium provides the optimum properties of both metal and ceramic materials - often used individually as femoral head components with varying success. Ceramic heads for example provide very low friction, though they can often be brittle and prone to fracture under extreme force. Oxinium heads however, benefit from their low-friction ceramic-like surface, whilst the inner metal core provides the robustness needed to eliminate the occurrence of fracture. Hip simulator testing demonstrates that Oxinium also generates much lower wear debris than traditional THRs, making Oxinium THRs suitable for active patients.
There are some factors such as gender, age or anatomy which mean that Mr McMinn would have to use a variation on the components mentioned above. However, he has a wide range of THR components available at surgery and his ultimate aim is to match the appropriate THR procedure to the individual patient for a successful outcome.
Mr McMinn has an excellent success rate with the total hip procedure and has performed in excess of 6,000 THRs in his career. Following surgery, all THR patients are able to get back to their normal lives and are happy with their hip function. Please feel free to ask questions about implant types and bearing couples during your consultation with Mr McMinn, you can book a consultation here.