The Birmingham Hip Resurfacing (BHR)
Click on the thumbnails for enlarged view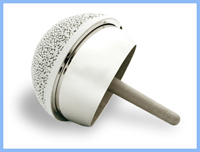 Active patients who suffer with hip arthritis may well benefit from the Birmingham Hip Resurfacing (BHR) procedure, a bone-conserving alternative to Total Hip Replacement arthroplasty.

Pioneered by Derek McMinn, the Birmingham Hip Resurfacing restores the natural shape of the joint meaning better stability, longevity and higher levels of patient activity than a traditional hip replacement. The Birmingham Hip Resurfacing has enabled thousands of patients - including many high profile athletes - to leave behind the pain and immobility of an arthritic hip, restoring their quality of life.

With Total Hip Replacements, the femoral head (ball joint of the hip) is removed and replaced by a long, stemmed device. Very little of the femur is retained - as shown in the diagram below. The procedure is reasonably successful in elderly, relatively inactive patients. However, replacement hip joints wear out quickly in younger, more active patients, leading to the inevitable saga of revision surgery and associated complications.

With the BHR procedure, however, Mr McMinn removes just a few millimetres from the two articulating surfaces of the hip. The procedure is bone-conserving because most of the joint is retained (see diagram). The femoral head is shaped to accept a low-wear metal sphere. This sphere matches the patient's anatomy, meaning there is a low risk of dislocation, a broad range of movement and excellent stability. The acetabular socket (cup joint of the hip) is then fitted with a corresponding metal cup. Since the metal femoral component articulates within a metal acetabular cup, the BHR is referred to as a Metal-on-Metal (MoM) hip joint.

A comprehensive range of sizes is offered to address the needs of most patients, even those with acetabular deficiencies.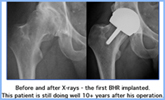 The Birmingham Hip Resurfacing is manufactured from as-cast Cobalt Chrome, which has a proven clinical history of over 40 years. The BHR's unique design remains unchanged in its 14 years of clinical use. The BHR is also the world's most successful MoM hip resurfacing system with over 140,000 implantations globally. The BHR was approved by the FDA for clinical use in the US in May 2006.

Mr McMinn is one of the leading experts in conservative joint replacement. He has outstanding success rates with the BHR procedure - please see the Results tab for more information. Having performed over 3,500 MoM Hip Resurfacings over the course of 20 years, he is also one of the most experienced surgeons working in the field. Who better to perform your BHR than the man referred to as the 'Father of Modern Hip Resurfacing'?

To book a consultation with Mr McMinn please click here for more information.

To see how patients recover following BHR surgery, please click here for a video case study.

Mr McMinn recently recorded a video lecture called 'BHR & Other Options' - The lecture is a comprehensive overview of the current status and future of hip resurfacing. Watch the lecture here.