Hot on the Heels of the Olympic Torch
Roderick Drew's 4,000 mile cycle in aid of Macmillan Cancer Support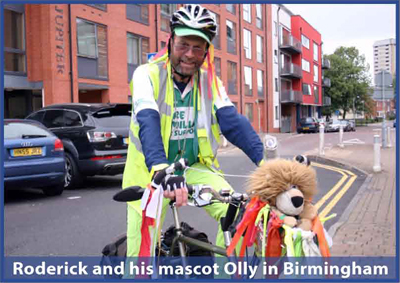 Excluding air and boat travel, the Olympic torch will clock up around 4,000 miles during its 70 day relay through the British Isles. Roderick Drew has been hot on its heels since day one, setting off from Land's End on May 19th. On day 43 Roderick cycled to Birmingham – the city in which nearly 10 years ago, he had bilateral BHRs with Mr McMinn.
Roderick, a cycling enthusiast from Dorset, gave up his car in the early nineties in favour of his environmentally friendly transportation. Now in his 60s, he's clocking up an impressive 70 miles each day of the torch relay. "It's impossible to follow the route of the flame completely," he explains. "80% of the journey it's inside a vehicle. I'm the engine of my vehicle, so I like to pick an interesting route. I've followed it all the way - up through Wales and over to Northern Ireland, then back over to Scotland."
Affectionately nicknamed 'Torchrider', Roderick seized the opportunity to fundraise for a cause close to his heart. "Sadly most people are affected in some way by cancer. Certainly close members of my family. And because it touches more or less everyone, I felt that Macmillan Cancer Support needed everything they can get! Along the way I've met lots people with their own personal stories about cancer, or who are involved in their own fundraising. They're thrusting money into my hands, so it's very poignant."
Roderick explains the inspiration for the challenge came from wanting to cycle south through Europe, "to North Africa and visit my uncle's second world war grave," he says. "I was concerned as to whether I could manage such long distances, particularly at my age. But doing this has proved I can manage to keep cycling each day. So far I've logged about 2,800 miles, sometimes cycling for 18 hours a day."
Accompanying him on his travels is mascot Olly the lion - a last minute acquisition, given to him by a friend just minutes before departing to Land's End. "Olly sits on the front of my bike. He's with me all the way and he's a great incentive – he tells me to keep cool and to keep my eyes on the road!"
Roderick's always been active. As well as many cycling events, he's competed in several London Marathons including the very first in 1981. Thanks to his BHRs performed by Mr McMinn at the The Hospital, he's maintained high levels of activity and even plans to run the 50th London Marathon in 2031. "Having my Birmingham Hip Resurfacings has been the most liberating thing imaginable. I'm coming up to the 10th anniversary and the results have been perfect." The route has thrown up several obstacles, but Roderick has every faith in his hips. "Cornwall was the pits for hills," he jokes. "But not even the steepest hill makes me worry about the hips. I'm always fine when I get to the top and there's absolutely no pain or discomfort at the end of the day."
We wish Roderick the very best for the remainder of his journey. To help support Macmillan, please visit Roderick's fundraising page: www.justgiving.com/roderick-drew
To find out more about Roderick's challenge, as well as photos please visit: www.torchrider.co.uk