The McMinn Centre, Hip & Knee Surgeon, Hip & Knee Surgery, Birmingham UK » Patient Info » Birmingham Hip Reaches New Heights

Birmingham Hip Reaches New Heights
BHR patient Jim Ryall tackles Mount Aconcagua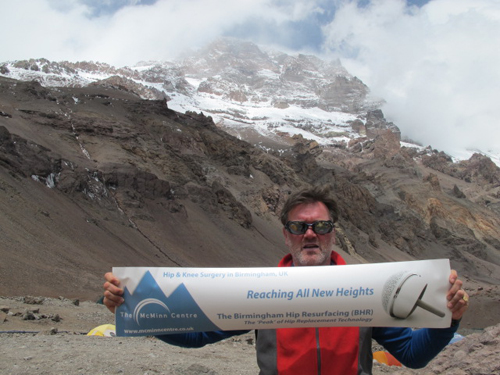 Ex-Royal Marine Jim Ryall's used to pushing himself to the limit. But crippling hip arthritis in his late 30s forced him onto a diet of anti-inflammatories to stay active. He sought respite and after several fruitless consultations with other surgeons, bilateral Birmingham Hip Resurfacings (BHRs) from Mr McMinn - in 2000 and 2003 - enabled him to ditch the medication and get on with a pain-free life.

Now 11 years after his first BHR, Jim's testing his hips out in the most adventurous way possible. After contemplating a Polar trek, he set his sights on a hike up Mount Aconcagua in Argentina. And at a whopping 6,959 metres, it's the highest peak outside the Himalayas. "Without a shadow of a doubt this is the hardest thing I've ever done," explains Jim. "We spent 16 days on the mountain altogether and the hips were perfect."

He starts going into detail - clearly Aconcagua is not for the faint hearted, with or without a BHR. "The altitude made even the simplest task hard work with so little oxygen. I suffered constant breathlessness, headaches, diarrhoea and vomiting, incessant coughing and a chest infection." Jim even dropped more than 12 kg during the challenge. Amazingly, things could've been worse. "A group ahead of us got themselves lost for three days wandering around near the summit," recalls Jim. "They had to be rescued and had various fingers, toes, and a foot cut off due to frostbite!"

Jim was well aware of the risks and enlisted the help of an experienced local guide. They battled the elements, making it to the third and final camp ahead of the mountain's peak. "We made it 6,500 metres up but temperatures of -30°C and winds of 40 knots made it too dangerous to even contemplate continuing to the summit. The weather is notoriously bad and the success rate on the mountain is quite low – it's only about 20%.

"By the end I was totally exhausted but there was a tremendous sense of achievement, despite not reaching the summit. Could I have done it without my BHRs? It's difficult to see how!" He goes on jokingly, "The only issue was mobility and agility in a cramped two-man tent!

"It was fantastic to arrive home, though certainly very strange after three weeks focusing on nothing but the mountain. I thought after the trip that I never wanted to do anything like this again, but now I'm not so sure."

Whichever challenge he decides to take on next, Jim doesn't have to worry about his BHRs. He now has over a decade pain-free on one hip and over eight years on the other. "I certainly see no reason why I shouldn't continue to lead a totally active life – and certainly the hips aren't going to stop me. I think the rest of it's going to fall apart before the hips!"

In Summer 2012 Jim featured in Hip & Knee News, you can download the newsletter here.