Modern Hip Resurfacing – Springer, 2009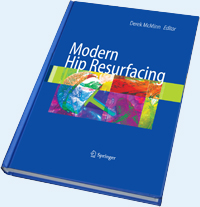 The book 'Modern Hip Resurfacing' tells the story of Mr McMinn's experience with hip resurfacing since its inception in 1991. For Orthopaedic Surgeons it is a revealing insight into the lessons Mr McMinn and his colleagues have learned over the ensuing 18 years. The book includes contributed material from experts in all aspects of the resurfacing procedure, from materials science to surgical procedure to patient recovery.
Accompanying the book is a DVD with over 3 hours of video material, which includes footage of surgical procedures narrated by Mr McMinn himself as well as a documentary looking into the history behind hip surgery at the Wrightington Museum.
For details of how to purchase, please see the links below :