Success on the slopes for Colin!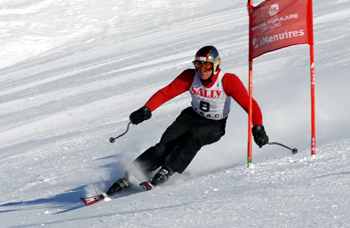 Bilateral Birmingham Hip Resurfacing (BHR) patient and Alpine skier Colin Tucker came ninth in this seasons International Ski Federation (FIS) Masters Cup. The international championship featured 81 competitors from 16 different countries. Reflecting on a successful campaign Colin said: "It's been my best season by far!"

The venue for the final brought back some fond memories for Colin having been there, "Seven years ago to watch the Olympics and also bringing my son here for a FIS junior race." Alpine skiing isn't for the faint-hearted reaching speeds up to 40kmph whilst hurtling down hill, slaloming through the posts in the quickest time possible.

With double-points on offer, it looked as though the tough competition was coming to a thrilling climax in Sestreire, Italy. Unfortunately for Colin, his favoured slalom event was cancelled due to a blizzard; something that he believes may have cost him up to three places.

Before his BHRs Colin's increasingly painful, arthritic left hip meant he was: "Faced with the possibility of not being able to ski again." Herefordshire-based Colin's research led him to the Birmingham Hip Resurfacing (BHR) and its pioneer surgeon Derek McMinn. "It soon emerged the BHR operation was the one to have and which could be completely successful for me," recalls Colin, who competes all over the world. Thinking back to 2001, when he first researched the BHR, Colin realised: "It was the one that was fully developed, fully researched and reliable."

Colin's BHRs have given him "confidence in my movement" and has aided his agility when skiing. Staggered by the success of his bilateral BHRs, implanted five-years apart, Colin is very happy to be leading an active life again and thankful for the chance to compete on the world stage, in the sport he loves. Colin was the only person from the UK to get a top 10 finish, and is surrounded by skiers from countries who offer them more mountainous regions to train.

Colin has previously featured as a Hip Resurfacing Case Study for The McMinn Centre.
FIS Masters Cup
1
KERSCHBAUMER Markus
AUT
225
2
HOLZER Robert
AUT
174
3
SEIWALD Albert
AUT
164
4
RIESEMANN Heinrich
GER
143
5
SCHUPP Eberhard
GER
139
6
KOVAR Josef
AUT
128
7
MORET Paul
FRA
118
8
DE ROCCO Nadir
ITA
115
9
TUCKER Colin
GBR
115
10
ROEMPKE Juergen
GER
98

Colin's races, results and league tables can be found on the FIS Masters web page.