Birmingham Hip Resurfacing For ITV's Bob Warman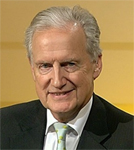 On Friday 4th January Mr McMinn made a brief appearance on ITV Central News talking about the Birmingham Hip Resurfacing (BHR) procedure.

Legendary local news presenter Bob Warman recently underwent BHR surgery with Mr McMinn's long-time collaborator, Ronan Treacy. Mr McMinn and Mr Treacy of course launched the BHR back in June 1997.

Bob had his surgery shortly before Christmas and spent the festive period recuperating at home with his family. We understand he's doing very well indeed. The Central News report can be viewed below.

Bob Warman turns bionic from ITV Central on Vimeo.

If you would like Birmingham Hip Resurfacing surgery or would like to find out more information about the surgical procedure then please contact us.