Almost exactly six years to the day our YouTube channel was created, we have surpassed the 500,000 views milestone! With a total of 99 videos so far, our channel is a great resource for prospective and post-surgery patients to find out everything they need to know about Derek McMinn and the Birmingham Hip Resurfacing (BHR). On our channel, you will find a wide selection of patient interviews in which they tell of their experiences both before and after surgery with Mr McMinn. Web lectures presented by Derek McMinn cover a range of topics such as The Birmingham Hip Resurfacing (BHR), Birmingham Knee Replacement (BKR), Total Hip Replacement (THR) and much more. Footage recorded in theatre shows the surgical procedure of the BHR and BKR in full. Other videos include Rehabilitation and Recovery procedures, Mr McMinn's charity work in Vietnam and celebrating ten years of The McMinn Centre.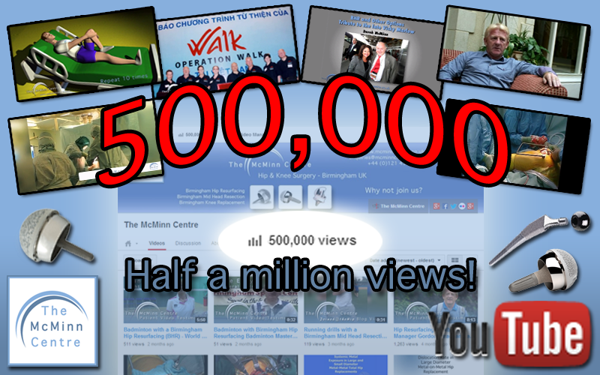 The best way to keep up to date with our video content is to subscribe to our YouTube channel.
We currently have 372 subscribers and we'd love to see that number continue to rise.

Our overall top five most popular videos:
The Birmingham Hip Resurfacing surgery video series boasts a cumulative view count of just over 207,000 over 5 parts, showcasing Mr McMinn's expert handiwork in the operating theatre. With almost a staggering 115,000 views, the Rehabilitation exercises video proves to be our most popular stand-alone video, containing vital information for patients to aid their post-surgery recovery.

Our top five most popular patient interviews:
From everyone at The McMinn Centre, we would like to say thank you to everyone who has viewed, liked, commented, subscribed, shared and favourited our videos on YouTube. Here's to the next milestone!
And if you haven't visited our channel yet, why not
take a look
?