On Thursday 6th June 2013, Derek McMinn, Consultant Orthopaedic Surgeon, and his team are celebrating their 10th anniversary at The McMinn Centre.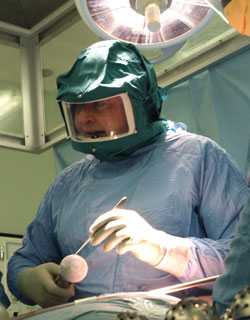 Established in 2003, The McMinn Centre provides a permanent base for Mr McMinn's surgical, teaching and research work, and is the first point of contact for patients looking for conservative joint replacement. Based in Birmingham's Edgbaston Medical Quarter, our dedicated team work together to provide an unparalled and personal service to hip and knee resurfacing/replacement patients from around the world.

Derek McMinn is the pioneering surgeon behind the Birmingham Hip Resurfacing (BHR) and several other orthopaedic implants, such as the Birmingham Mid Head Resection (BMHR) and the Birmingham Knee Replacement (BKR). Operating locally from The Hospital, Mr McMinn has operated on more than 2500 patients in the last 10 years alone, in addition to holding countless consultations and follow up appointments.

Leading the field in hip and knee replacement, The McMinn Centre has excellent success rates and carries out extensive research projects. Despite negative press regarding hip resurfacing Derek McMinn's results from the first 1000 BHR patients show an overall survivorship of 95.8% at 15 years across all ages, genders and diagnoses. These fantastic results completely outperform the NICE (National Institute for Health and Care Excellence) guidelines, which recommend an acceptable survivorship of 85% at 15 years.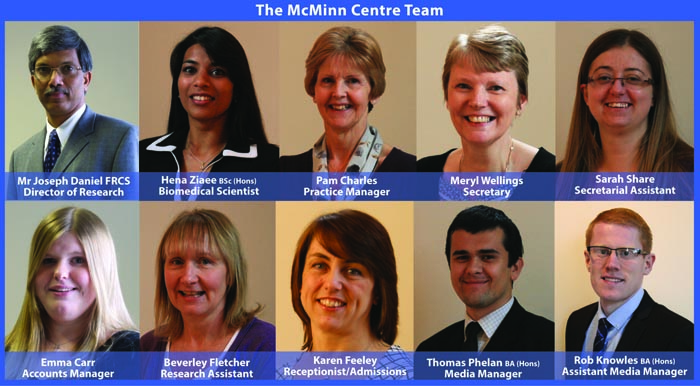 Between operating and publishing research papers, Derek McMinn makes time to share his expertise by training surgeons and aiding implant development, working with engineers on the latest technologies. The McMinn Centre's research has led to over one hundred pieces of published literature with several original citations and papers. All of The McMinn Centre team worked tirelessly with Professor McMinn on his book Modern Hip Resurfacing (2009) which details the process from inception to development of the pioneering Birmingham Hip Resurfacing. Professor McMinn is a well respected voice within the orthopaedic community, regularly invited to speak at International conferences on hip and knee arthroplasty.

Centre manager Pam Charles said: "We've had a fantastic 10 years and we are looking forward to our continuing success. There is no better job satisfaction than hearing success stories from our patients who have become active again thanks to the brilliant work we do here."

We want to take this opportunity to say thank you to all of our patients, partners and associates over the past decade.