Video Testimonials
Hip Resurfacing Gets Gold For Sian Williams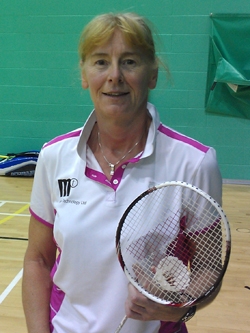 In September 2013 Sian Williams became Women's Doubles Champion at the Badminton World Masters in Ankara, Turkey. In 2009, the fitness instructor and badminton coach underwent right Birmingham Hip Resurfacing (BHR) surgery performed by Professor Derek McMinn.
Before the operation, Sian described her hip pain as being 'particularly bad' and affecting her walking; when she developed a limp she was forced to stop playing badminton. Exploring her options for treatment, she was offered a Total Hip Replacement by several consultants who couldn't guarantee a return to playing badminton - something she was desperate to be able to continue. After consulting with Mr McMinn, Sian opted for the Birmingham Hip Resurfacing, the more bone conserving treatment, ideal for younger and more active patients
The surgery, recovery and rehabilitation were "great" said Sian. Mr McMinn gave her an exercise programme and she stuck to it. A gradual increase in activity is vital, starting with swimming then advancing to more involved activities such as cycling. Sian didn't play badminton for a year post surgery due to the impact loading involved; it can take up to 12 months for the bone to regain its strength and durability. "I took it very, very slowly but glad I did because the recovery was so much better in the end." Sticking to the plan paid off and Sian happily made a return to the court and began playing badminton again. "It was great to get back playing again - I'd really missed it because it's such a big part of my life with it being a job as well."
In the World Masters Championships, Sian played a total of nine matches over six days, progressing through to the final with her doubles partner Pam Peard. They beat the number two and three seeds along the way and lined up against the tough opposition of number one seeds Lone Hagelskjaer Knudson of Denmark and Mei-Ying Lee of Chinese Taipei in the final. The duo battled it out in a close fought match and came out on top, bringing home the gold medals. "All the games got progressively more difficult, the final was very difficult - three sets - and we were well down at the change on the third but luckily we came back and the hip held up!"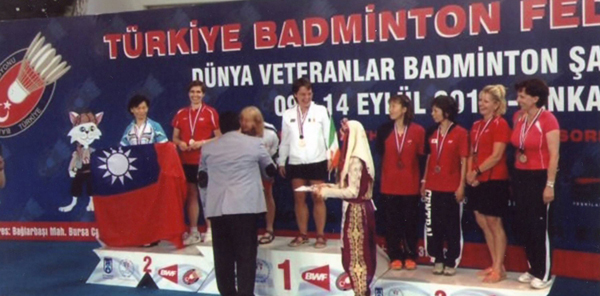 At the tournament, Sian met another of Mr McMinn's badminton playing patients, Dave Eddy, who was in the singles and doubles categories. Dave has an early McMinn Hip Resurfacing from 1994 and a BHR and continues to compete at masters level, collecting a medal in the over seventy category. "It's great to see that he can still compete at that level and hopefully I'll be able to do that in twenty years as well!" said Sian.
Sian's surgery has made a huge difference to her general day-to-day life with sleep disruption and pain becoming a thing of the past. Not being a driver, Sian relies on being able to cycle and being active to get around, so the fact that she is no longer restricted by pain is a "huge thing for me". Sian advises anyone who is considering hip resurfacing surgery to "definitely go ahead and get the BHR because it has just changed my life totally."
"The fact that I am a woman - that never put me off at all. I know that there's talk about it not being as successful for women but for me it has been a huge success."
To see Sian and Pam's tournament progression at the 2013 World Masters, click here.
Return to BHR Video Testimonials >