Video Testimonials
Mark Edwards - World's First Birmingham Hip Resurfacing (BHR) Patient
First Ever Birmingham Hip Resurfacing Patient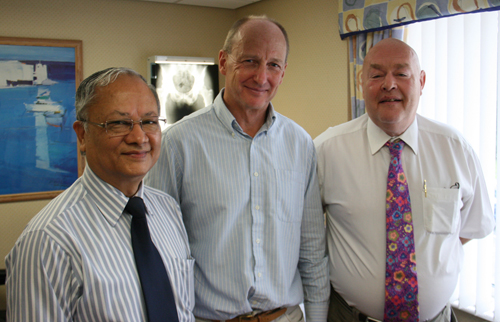 Mark Edwards had the world's first Birmingham Hip Resurfacing (BHR) on 30th July 1997 at the age of 38. The onset of osteoarthritis forced him to give up rugby and squash in his mid thirties, whilst he relied on a walking stick to get around.

Mark was offered a total hip replacement in London but recalls, "I was feeling uncomfortable about that kind of surgery. It was a pretty significant operation and I was still very young and keen to be active." Fortunately, Mark came to discover an alternate procedure pioneered in Birmingham by Mr McMinn and he continues: "I was about to embark on having a family and wanted to encourage my children to be active and lead by example."

Mark was convinced a bone-conserving BHR was his best hope of getting active again, despite the procedure being in its infancy. "I knew Mr McMinn had done a fair number of successful prototype operations. And he cited some examples of patients who'd gone back to doing judo and mountain running. That very much persuaded me that it was something I was prepared to go for. I was of the view; given my age that it was 'nothing ventured nothing gained.' And if a relative new procedure didn't work out it still left me in a position to have a full hip replacement if that was necessary."

Mark's wife was heavily pregnant during the summer of 1997 and they were keen to get surgery out of the way before she gave birth. Mark explains: "My wife wasn't wild about changing surgical stockings whilst she was eight and a half months pregnant! But thankfully we managed to get the operation in just before the baby was born which was great and I was in a position to do all the fatherly duties that were required. Then, after about six weeks I was back at work walking without a stick."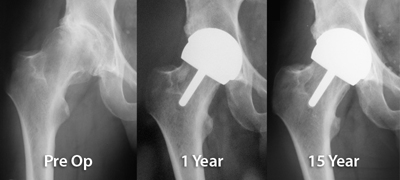 Having recently returned to the The Hospital for his 15 year follow-up consultation and x-rays (above), Mark's over the moon with his BHR. He comments: "Everything's looking as good as the day it was put in. The fact that there seems to be no deterioration in hip function 15 years on is very encouraging. I'm very pleased with the outcome so far."

Mark's also enjoyed a range of activities since his surgery, getting back to skiing, swimming and sailing. "I've been skiing for the last 10 years which is brilliant because it's one of the key things I wanted to keep doing. I still swim an awful lot too. About five years ago I did the swimming leg of the London Triathlon as part of a relay team. It was a fairly intense 1,500 metre open water swim - so probably the most tired I've felt since the operation.

"I have no experience of how a total hip replacement may have been but my expectations were that, had I had one, I wouldn't have been nearly as active either immediately afterwards and certainly not 15 years on. In that respect I'm delighted that my hip resurfacing has allowed me to continue with an active lifestyle and enabled me to keep fit.

"I guess for me the real testimony is that I now take it for granted that I can lead a full and active life, without giving a moment's thought to the fact that 15 years ago I had hip arthritis. And I do remember the day I was diagnosed and the real sinking feeling at the age of 31 that I should have such a debilitating disease. It's not something I've thought about since because there's nothing stopping me from leading an active lifestyle. I'm very pleased to be in that position now."

In Spring 2013 Mark featured in our Hip & Knee News newsletter, you can download the newsletter here.