Video Testimonials
Colin Gittins - Bilateral Birmingham Hip Resurfacings (April 2006)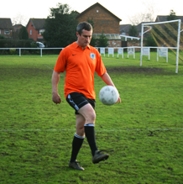 Software Engineer Colin from Gloucester heard about hip resurfacing after some discomfort manoeuvring his legs. Whilst he was attracted to the bone-conserving Birmingham Hip Resurfacing (BHR), the alternative left more to be desired. "The THR was offered as a possibility," recalls Colin. "The thing that put me off about total hip replacement is the spike going down into the femur and the possibility of it cracking. I just felt that it's only going to have a lifetime of 10-15 years maximum, just from an intuitive point of view."

Determined to go ahead with the hip resurfacing, Colin began researching. "I found out the best chance of success for this particular operation is to go with a surgeon who's got the most experience," explains Colin. "I discovered the best hip doctor around was Derek McMinn from Birmingham." Impressed by the several hundred BHR procedures Mr McMinn had carried out, Colin says, "I went across to see Derek and he immediately put me at ease. He said there was no reason I couldn't get back to playing any sort of sports. That was a bonus for me because I've always been active."

Content with his choice of surgeon, Colin explains, "I had both hips done at the same time which I thought was a good thing because I didn't want two sets of recovery. The operation was a complete success. Two days later they got me out of bed to start walking around with a walking aid. 10 days later I was out of hospital!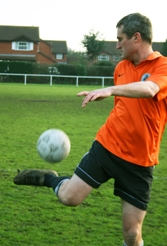 "I got back to playing football after about 12 months post op," continues Colin. "Initially I was hesitant to kick a ball because of the stress on the joints. But from the word go I didn't feel any different. The goalkeeper wasn't able to take the goal kicks so I'd take [them] and I could easily clear the half way line! I was playing for the full 80 or 90 minutes from the word go."

As well as getting back to playing football twice a week, Colin plays regular squash and goes circuit training. "Getting back on to a football field with 'normal people' and playing to a reasonable standard is incredible to me," he beams. He goes on jokingly, "If I do ever mention to the opponents that I have two metal hips to make them feel better, they're absolutely incredulous that I'm still playing football! I consider myself one of the best bilateral hip replacement players in the world now!"