Video Testimonials
Colin Drew - Right Birmingham Knee Replacement (BKR) (April 2010)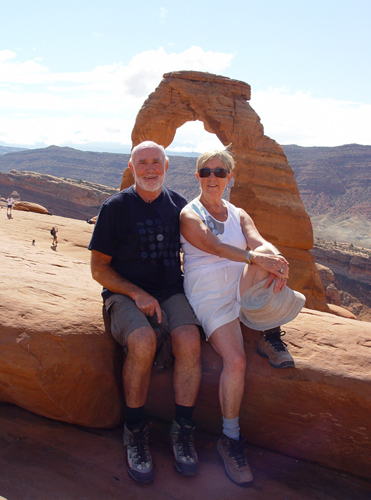 Colin Drew had his Birmingham Knee Replacement (BKR) with Mr McMinn in April 2010 and swiftly got back to skiing and waterskiing following surgery.

Initially sceptical about knee replacement, Colin was impressed by Mr McMinn's promise that a BKR would let him stay active. Two-and-a-half years later Colin acknowledges his surgeon's fulfilled that guarantee. "It's definitely proved the case," he says. "I'm very pleased with my BKR. I've had x-rays taken which prove that it's in good condition and I can do all the activities I want to do with it.

"Since the operation I've been on five skiing holidays, I water ski during the summer and we've been on two walking holidays." One of which was a trip across the Atlantic to visit some of the US National Parks (pictured, above), walking up to 10 miles each day. "Most of the walking was fairly high altitude - 9,500 up to about 11,000 feet," he explains. "Normally with a bad knee the difficulty is not walking up but walking down – and mine was absolutely fine."

Many knee replacement patients find travel bothersome following surgery, but no such difficulty for Colin and his BKR. He clocked up nearly 3,000 road miles in the US with no pain whilst driving. He adds: "Anybody who goes on a plane and has to sit down for eight or nine hours knows it can be uncomfortable. The knee caused me no problem at all."

Colin says he's come a long way since his painful pre-surgery days, recalling that: "Walking two or three miles - even with a leg brace - was real agony." And with the future looking bright, he's excited about staying active. "Although I'm 68 years of age, as long as I can carry on doing the sports I will do. I was beginning to struggle before the operation but my BKR has revitalised me so I'm making the most of it."

The BKR is an innovative new knee replacement boasting lower wear rates, higher stability, an increased range of flexion and better patient satisfaction scores than competitor designs. Mr McMinn's BKR patients are able to get back to activities such as golf, cycling, tennis and skiing following surgery.

In Spring 2013 Colin featured in our Hip & Knee News newsletter, you can download the newsletter here.