Video Testimonials
Colin Drew - Right Birmingham Knee Replacement (April 2010)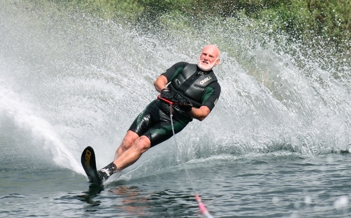 Energy Consultant Colin from Derby had a right Birmingham Knee Replacement (BKR) with Mr McMinn in April 2010. Less than 12 months later, Colin's back to his favourite hobbies snow skiing and water skiing.

Ever the thrill-seeker, his knee problems began 30 years ago after a rock climbing accident. "I would've probably done better to break my leg, but unfortunately what I did was damage the cartilage," he recalls. "I started to have difficulty walking any distance without great pain. And my leg had got to the stage where it was very bowed.

"I had been to another consultant who said yes, I could have a knee replacement. But afterwards I would have to stop all the sport I do. But when I came to see Mr McMinn, my first question was 'should it be possible to both water ski and snow ski after the [BKR] operation?' And the answer was 'yes!'"

Colin was offered a "regular" knee replacement by the first consultant he went to see. The main problem with these sorts of knee replacement is that they don't function as a "natural" knee does. The unique design of the BKR however, allows patients to be highly active following surgery, pursuing activities such as golf, swimming and tennis. The BKR also provides excellent stability, superb knee function and significantly lower wear compared to traditional knee replacements.

All Straightened Out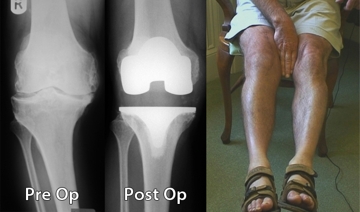 Mr McMinn was also able to straighten Colin's bowed leg. Colin explains the extent of the damage, "Before the operation my right knee was bent in such a way that I could actually fit three fingers between my two knees! I can now put my legs together and my knees will touch. My leg has been straightened, which so they tell me, makes me look 10 years younger."

The BKR has transformed Colin's quality of life. Had he opted for a regular knee replacement, it's unlikely he'd be so active. He says, "I can walk normally and go up and down stairs without any difficulty." Most importantly, he's back to the sports he loves and there's no looking back. "I'm very well pleased," he beams. "Inside five months I was water skiing again. Inside nine months I actually went snow skiing again!"

In Autumn 2011 Colin featured in Hip & Knee News, you can download the newsletter here.
See Colin talking about his Birmingham Knee Replacement two-and-a-half years later here.