Don Moseman Jr. travelled over from California for a BHR with Mr McMinn…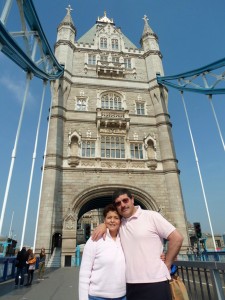 Hi there! My name is Don Moseman Jr. and I'm a 49-year-old husband (22+ years) and  father of three, working as a mechanical engineer and the proud owner of a new left Birmingham Hip Resurfacing (BHR) 5+ months off the lot. In my past life I was very active, having wrestled in college and having started to learn judo. While my competitive days may have passed, I would still like to continue learning, practicing and teaching.
My path to a BHR began when, back in 2000, I tore "something" in my left hip while out on a 10-mile trial run one evening, when I usually only do 2-3 miles. It happened at mile 7 and hurt very bad. But being three miles out, in pitch darkness on the trail, I did the "old man shuffle" the remaining 3 miles. After ignoring the problem and limping around for 6 – 8 weeks, I decided to see my G.P. who referred me to physical therapy where my running injury was diagnosed and treated as a torn psoas muscle; I didn't have any imaging to confirm this diagnosis! I returned maybe to 80% of my former condition, but could not run fast and felt limited in my ability to compete hard in the gym and dojo. So, unbeknownst to me, for the next 8 years, I proceeded to degenerate my femoral head and acetabular cartilage destabilizing the left hip joint. This was to the point where, after 6 or 7 surgical consults, I realized that doing nothing was not an option and that arthroscopy with surgical repair of the torn labrum would not give me the long term result for which I had hoped.
It took me 16 months of research – reading various hip surgery and anatomy books, learning as much as I could about the various surgical risks, along with very active participation in Yahoo patient advocacy groups – to finally decide that hip resurfacing was the best option for preventing the continuing degradation in my left hip and for recapturing some semblance of the active lifestyle I used to lead.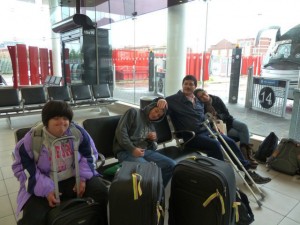 Over the next year, I continued to learn, read orthopaedic journal articles, and have e-mail consults with some truly gifted surgeons. The moment I finally knew my path forward occurred at a February 2012 hip patient gathering put on by Vicky Marlow (Yahoo hipresurfacingsite moderator) at which she had invited Derek McMinn and his team. They had come to the U.S. to participate in the 2012 American Academy of Orthopaedic Surgeons (AAOS) annual conference but generously gave up their first day of the conference to help educate and, for some of the lucky 100 attendees, review our cases. My consult was with Mr. Joseph Daniel who quickly pointed out the difference between my left (bad) and right (good) hip x-rays. The x-ray clearly indicated that I had been favoring my left hip by overloading my right hip which had started to cause and worsen other orthopaedic issues (right hip symptoms, right foot). I realized I needed to do something soon for my left hip or it would continue to worsen these other orthopaedic symptoms. I looked very carefully at the different devices, but the BHR stood out. The most telling data of all was the recently published McMinn Centre data for the BHR which went back 14 years and had a 98% success rate for males at ten years. My mind was made up and I requested that the McMinn team review my case to determine if they would accept me as a patient. Thankfully, with the support of The McMinn Centre's amazing centre manager Pam & her team, they did and, in two short months, I was admitted to the BMI Edgbaston Hospital for surgery.
So what was life like pre-surgery? My hip pain was a constant 3 – 4 (10 being the worst) and I rarely if ever had to medicate to break the cycle of pain. I did have a bit of trouble putting on my left sock. I also couldn't sit for more than half an hour without my left hip hurting and, when I drove for more than half an hour, I had to straighten my left leg – putting myself at risk while driving. But worst of all were the family trips where I was the "old man" walking 100 – 200 yards behind my family. Long walks were definitely not my friend.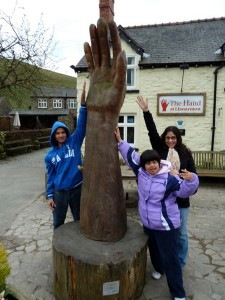 Prior to my surgery, my family and I flew to the UK and were able to visit London. We made stops at the Tower Bridge, Tower of London, St Paul's Cathedral, Big Ben, the London Eye and Buckingham Palace. We had a great time and rode the "tube" quite a bit. We also got chance to visit Windsor Castle. We then travelled to on to beautiful Wales where we were the guest of Freja & John a lovely couple who introduced us to their beautiful home of Llanarmon. We also stayed in North Wales on the coast of the Irish Sea in Llandudno. It was a really good idea to combine the surgery with some sight-seeing and visiting different places, especially as we had the children with us!
This was the first major surgery I'd ever had, but I wasn't too nervous. I felt I'd done more than sufficient research and that I was very fortunate to be treated by the best hip surgeon & surgical team on the planet for this type of surgery, using the device with the best performance record.  I was also blessed to have had met, online, two of the other patients who would be having the surgery at the same time and we were all fortunate to have the support of another patient who so generously gave of his time (Skype and numerous e-mails) and experience having just had his hip surgery with Derek McMinn four short weeks before us.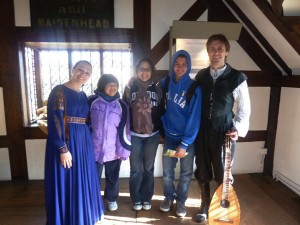 I have very fond memories of the McMinn team and of the many wonderful care providers at the BMI Edgbaston hospital.  Several times during the week, the doctors Joseph Daniel and Chandra Pradhan would visit and also anesthetists Dr Ahmed and Dr Prasana, to check up on us and to be sure we were progressing well. We also had a surprise visit by Mr. McMinn! I really enjoyed our conversations and found them to be very informative and had a chance to see just how much they care for their patients and the extreme attention to detail they apply to all aspects of our care. The nurses, physical therapists and other staff at BMI Edgbaston hospital were equally fantastic, providing care well beyond our expectations with some very, very experienced Sisters (Charge nurses dressed in dark blue).
While I was in hospital, my family was able to visit the Cadbury chocolate factory and took a train ride out to Stratford-upon-Avon which they said was absolutely beautiful. Once discharged from hospital I stayed, on Doctors orders, for another week as I needed two weeks post-surgery before traveling back to the U.S.  I stayed at the Premier Inn on Hagley Road (close to hospital and the City Centre), the staff there were an incredible help and the chef and waiter at the adjoining Beefeater restaurant were very nice as well, making us feel right at home. During that week, I took the bus to visit the Bull Ring Shopping Centre and the Central Library. Though for most of my travels post-surgery, I used Falcon Cars (a private taxi service). It was great being able to fly back to San Francisco from Birmingham International. I had an economy class seat with my operated leg stretched slightly into the aisle. However, within half an hour of our flight, one of the very nice flight attendants found me a double seat in economy with plenty of leg room. If you can afford it, I suggest business class for the flight back for extra comfort, though I made out alright with calf pumping exercises every ten or so minutes and getting up for a walk around every 30 minutes or so. If I needed surgery on my other hip, I wouldn't hesitate for an instant to come back!!
Now almost six months later, overall, I'm very happy with how my surgery turned out. I didn't expect to be running marathons 3 months after my surgery and am patient and willing to follow the rehabilitation advice given by the surgical team. At this point, I swim a mile a few times a week and alternate swimming with the stationary bike. I also get more than enough walking in at work. While I'm still recovering, with my left hip still a bit stiff from the surgical cutting, sewing and healing, I have zero hip pain (same result right after surgery). Putting on my left sock is still a bit difficult as left hip flexibility is slowly improving. However, I can sit for days, which has improved my work life and allowed me to work the way I did 10 – 15 years ago (yahooooo!!). No problem walking with the family either, though my left hip can get a little sore after walking a few miles with my 25 pound computer bag at work. Driving I can do for long distances without too much stiffness. At the 6 month mark, I intend to start some light weight lifting, aerobics, and forms (wrestling and judo techniques but no lifting of people, just replicating the movements). At one year, I will start some very slow, light trail running and will start light practice of wrestling and judo with people. My cardio focus will continue to be swimming and biking with an occasional trail run.
I could easily have taken up this entire article just writing about the awesome care I received from the McMinn team, Nurses, Physical Therapists and other care providers at the BMI Edgbaston as well as the wonderful hospitality from the people of England and Wales. Sincerely, there is not enough space to properly thank each and every person who made our stay such a pleasure. Suffice it to say, my wife and I miss them all and feel blessed and extraordinarily grateful for the fantastic care they all provided. We will never forget their passion for their work, their attention to every detail, the extraordinary care they provided me and their other patients, and the kind and beautiful hearts of the people of the United Kingdom. A big thank you to my loving wife of 22+ years, who supported me 100% in my decision to go overseas for the surgery, accompanied me and was with me in heart and spirit the entire time. I can also never forget the strong, sound, persistent and consistent support of patient advocate Vicky Marlow (Yahoo hipresurfacingsite) who led me to the McMinn team through providing a hip gathering in Fremont, California… and so many, many friends within her Yahoo group as well as the hipsrus and surfacehippy yahoo groups.  So many good, kind hearted people so giving of their time, their experience and advice. I made it to this side because of their support and the road they carved for others like me to follow.
A final word to prospective patients… Please don't live in fear of the unknown nor of the metal ion bogey man. I am 100% confident that, with proper patient & device selection and proper device placement that metal ions are a non-issue. I lived a limited life for far too long and hope that you will not do the same. Well over 3,400 (McMinn BHR patients) of us have now benefited from the extraordinary, innovative and pragmatic research and hard work of the McMinn team. I would not hesitate for one second to go back to them should I need such care again. We are all very fortunate that a man named Derek McMinn chose to champion the metal-on-metal bearing system back in 1991 and to perfect it over the next 6 years resulting in the device thousands around the world have in them today. A tremendous thanks to Derek McMinn and the extraordinary McMinn Centre team members for fighting the good fight and continuing to do what is in the best interest of the patient!!!
<Back to Joined@theHip Homepage