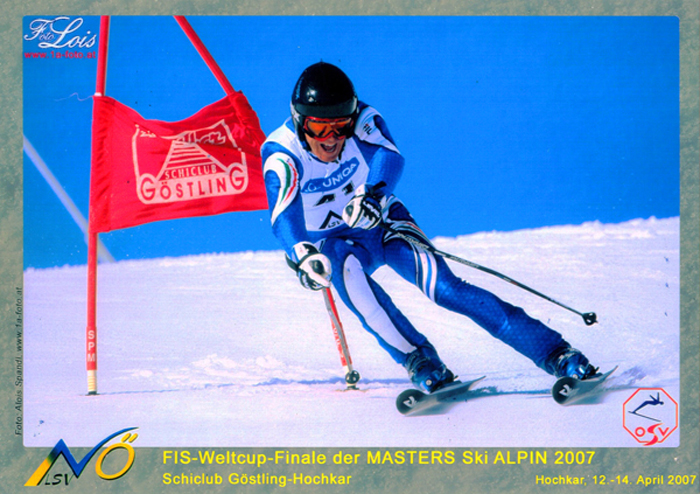 Gianfredo's BHR Story…
I have been asked to contribute my story to help spread the word about hip resurfacing and I do it with great pleasure because hip resurfacing allowed me to spend these last 10 years with a very good quality of life and to have many gratifications.
I am now a retired Professor of the University medical school of Naples – a beautiful city in the south of Italy – and research and teaching were my prevalent activities during my life. I also practiced many sports: mostly tennis, diving, soccer, sailing and as a master, late in my life, alpine skiing. This last was my favourite sport and the one in which I obtained the best results. Master skiers are people older than 30 and up to more than 90 – yes more than 90 – who, divided in categories of five years, compete in regional, inter-regional, national and international races and circuits. Competition is very high, competitors are plentiful – more than 500 at the World Criterium – and physical preparation is extremely important.
I discovered I had problems with my hips in 1991. I had to reduce my tennis, completely stopped playing soccer, and generally slowed down my physical activity – and of course the preparation for my ski competitions. My orthopaedic colleagues all suggested to go on as long as possible taking anti-inflammatory painkillers and then get a total hip replacement. However, I had the clear knowledge that no one who'd had the total hip replacement was back to the ski competitions. The ones who'd tried had their hips dislocated and sometimes even revision surgery. I did not want the total hip prosthesis!
I tried other treatments. I was the first one in 1991, to inject into my hip articulation, those high molecular weight polymers (which are used for the knee), but after three injections and very short time improvement, I stopped. Studying the hip surgery literature, I discovered the resurfacing technique. Ten years had already passed: it was 2001 when I contacted Mr McMinn's team. I had the first consultation and decided to have the first operation. At the end of that ski season, I was operated on by Mr McMinn and his team on May 17th at 17 o'clock, (17 is an unfortunate number in our culture, but nothing was wrong). My recovery was extremely rapid: at the end of August I started my training again on the glacier and in December I was able to return to my ski competitions.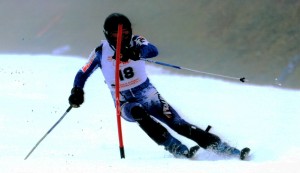 January, February and March of the 2002-2003 winter season, my results were bad compared with those I had the season before the operation. But the problem was down to a defect of decision, a sort of uncertainty that was making me to go slower or brake that little bit that, at a certain level, makes the difference. One tenth of a second each gate, at the end of the race are many seconds!
Things changed at the end of March at the Italian Master Championships which were held in Pila, Valle d'Aosta. During the Super G race, the fastest ski race for masters, I acquired trust in myself and, to the surprise of the others I was fourth in my category. Other competitors hardly accepted that someone from Naples, the South, at the sea level, could beat them, who had been born and lived on the Alps or were ski instructors or had a glorious past of ski racer.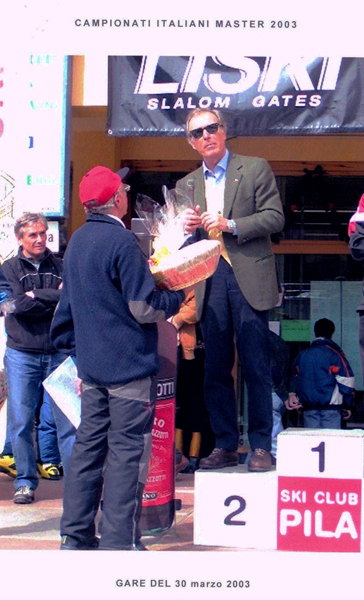 But that was nothing! The next day we had the Giant Slalom race, the most specialist technique of the alpine skiing. I was eighth after the first half run, but I was the fastest in the second and at the end of the run I arrived second at the Italian Master Championships. At less than one year from my hip resurfacing I had never had such a good result. And very good results I also had in the other two seasons.
In June 2005 I had the right hip operated and in the following season I decided to compete at international level. The Master World Cup is a very beautiful and well-organised race circuit, which consists of 25-31 races, three in South America, four in North America and the other races in Europe, mostly in France, Austria, Italy and Switzerland. For the final classification in the World Cup one can choose his best nine races. These rules favour of course, those who can select the right races: for example, like those in Chile or in Canada where there are few Austrians (who are the strongest in the circuit), or races where there are a limited number of participants so you can obtain a better position.
Following these calculations, I was able in various seasons to arrive among the first in my category and once I reached the podium – third after two very strong Austrians. That time I could not run the final races because I broke my tibial plate very badly. But I had already been first in five races before, so I could maintain the third position and have the Crystal Cup. This time I broke other bones but had nothing happen to my hips!
The same happened this last season. I fell down during a Super G of the World Cup and I broke eleven – yes eleven – ribs and the clavicle, remained one week in Emergency with serious pulmonary problems. But again, I had no problems with my hips.
People do not believe I have two hip resurfacings and I also forget it and will try to go on as long as possible.
<Back to Joined@theHip Homepage