Teacher Nick Fenton-Smith's BHR story…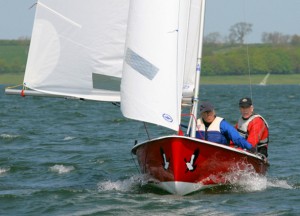 In 1989, aged 37, as a PE Teacher and sportsman, being told, "if you want to avoid a very early hip replacement, I suggest you think about changing your career – no more running and no more jumping," came as a bit of a shock. It wasn't totally unexpected, given my then recent history with a succession of orthopaedic surgeons.
I duly followed the advice, re-trained, and 'conserved' my dodgy left hip, as I was deemed 'too young' for a hip replacement – at least I'd have a 'limping legacy to use and abuse!'
I first became aware of Mr McMinn's developments in hip resurfacing techniques via the press in the early 90s, but was advised at the time that it was all 'too new' and as an untried procedure I would be unwise to pursue this further.
My physical situation deteriorated progressively during the 90s. But by 2000, something as simple as walking 200 metres down the road for the Sunday paper became a major issue. 'Walk or drive?' became a frequent question.
The constant pain from my hip affected my sleep, and impinged on most waking aspects of my life. I tried to remain active using swimming, canoeing and sailing as alternatives to weight bearing and impact activities. But short of becoming reliant on pain-killers, achieved little relief from the worsening pain.
While I maintained my annual orthopaedic reviews at a major teaching hospital, the repeated advice given counselled against the BHR whenever I raised the subject, the progress of which I was still following closely.  However, I do recall that in 1999, my consultant was instrumental in sowing the seed for the future by actually conceding that, "McMinn might have something there, but we won't really know for another 10-15 years."
In 2001, I suffered a major depression, resulting in hospitalisation. One of the principal contributory factors was the continuous pain and growing disability I was suffering. At the time and during recovery, I resolved that it was time to actually do something about the situation. As fortune had it, two female acquaintances of similar age and background had recently received BHRs. One in 1999, courtesy of Mr Ronan Treacy, and the other in 2000. Both were doing well – one returning to competitive tennis and the other able to undertake serious hill walking again.
I had by this time already been offered a date for a total hip replacement by my existing consultant, but on the basis of his earlier comment, coupled with my view of 'there's no harm in looking,' I arranged to see Mr McMinn in Birmingham in December 2001.
While I was deemed to be a suitable BHR candidate by Mr McMinn's team, the consultation offered no guarantees of BHR longevity beyond a conservative estimate of 'five years.' With this knowledge, I opted 'in' and underwent surgery in April 2002. Coincidentally, I believe it was during this week that the BHR was deemed 'an appropriate procedure for the younger client' by NICE (the National Institute for Health and Clinical Excellence), which offered further reassurance, as did Mr McMinn's very positive seven year BHR results, received during the week I was discharged!
On emerging from the anaesthetic, I can still remember the sensation of being immediately free of the horrible grinding pain that accompanies a rotten hip. Out of bed on the first day, post-op, I was initially on crutches, with minimal weight bearing on my left side.
As advised by the physiotherapists, I followed a strict but simple daily exercise schedule, and at six weeks post-op was able to drive an automatic car and swim, once the wound had healed properly.
With the daily pool work, I found I progressed very quickly, and my range of movement increased significantly. Three months on, following a gradual return to full weight bearing, I was walking a mile or two unaided, and was back sailing again by August.
Ten years on, the greatest difficulty I have is remembering I have a hip resurfacing at all. I walk unlimited distances (my knees are a bit creaky, but that's another story!), and I sail dinghies that, if I'm honest, are possibly too high performance for my age and abilities, as I spend a lot of time swimming around them and looking at the bottom!
Apart from the occasional short jog, I have consciously refrained from running and other high impact activities, though I feel I could run if I really wanted to. I go to the gym on a regular basis, and I swim and cycle. I am free of pain during and after activity. In summary, I have had my active life returned to me.
The recent adverse publicity surrounding metal-on-metal hip replacements led me to request a review at nine years post-op in 2011, and I was reassured by Mr McMinn and his team that the joint is still sound, and that the issues raised in the media were not applicable to the BHR.
If you are considering a BHR, based on my experience, I can only wholeheartedly recommend it as a consideration. My advice would be:
Don't leave it too long
Pick your surgeon carefully, and ensure they are experienced with the BHR procedure
Post-op, do the physical rehabilitation work religiously. It takes time to recover – up to and beyond two years, it will keep improving
Stay active
<Back to Joined@theHip Homepage