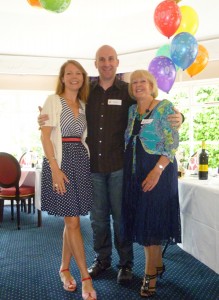 Jane had bilateral total hip replacements with Mr McMinn in 2007 & 2008. Here is her story…
I had severe pain in both hips in my late 60s which gradually worsened. I live in Guernsey in the Channel Islands and my x-ray results stated, "some wear, but to be expected with a person of this age," – typical of this Island! I was given anti-inflammatories, pain killers and injections.
Eventually though, I became almost immobile. I couldn't walk, drive, sit down or get up again, get on or off the loo, do any gardening or housework and many other day-to-day normal living movements. The pain was so bad I seriously contemplated suicide.
I searched online for "the best surgeon for hip replacement in the UK" and top of the list was Mr McMinn. Accordingly I booked an appointment and the pain during the journey over was indescribable. On arrival at Chad Road, I was amazed when within minutes of having my x-rays taken, the results were being discussed with me by Mr McMinn. This is somewhat different to what I'm used to – In Guernsey one has to wait ages to get results. The new x-ray however, revealed that both my hips were "knackered" to put it bluntly. Bone was rubbing on bone which was why I was in such pain and Mr McMinn told me both hips would need a total replacement. I booked in for surgery and accordingly had one hip replaced, followed by the recovery period, and then the other hip replaced.
My immediate post op thought was, "Oh bliss no pain!" It felt incredible and thus I was totally mobile. I aided my recovery by swimming twice a day – as I am lucky enough to have my own indoor heated pool – and took the dog out walking.
In the last 5 years I have swam, walked and danced. I do Wii fit aerobics each day as well as all my own housework, gardening and decorating.
The benefit is 100% + in each and every aspect of my life. It is quite incredible.
See below a photo taken in October 2011 for my son's wedding – not bad for a 75 year old, don't you agree? And notice the high heels! I mention the heels because it is incredible to me that I can wear and walk in them comfortably thanks to the quality of life I now have.
The other photo (above), taken a week ago, is of myself, my son and my daughter-in-law attending a 100-year-old lady's birthday party – again notice the high heels!
I refer to Mr McMinn as 'Mr Miracle McMinn.' I think his whole team is fantastic, especially Joseph and Chandra. Whichever one of them closed my wounds did a fantastic job as I have no scarring and my local doctor and nurse kept saying "how fantastic!" every time they examined me. The admin staff and the whole bunch at The McMinn Centre are top notch in my opinion and I shall forever be in their debt.
I would add that here on Guernsey, the medical profession, in my opinion, leaves a lot to be desired. The tales one hears of hips coming out of joint whilst patients are taken from the theatre back to their beds are horrific – yuck! I would rather go without food than have to give up my private health insurance.
<Back to Joined@theHip Homepage