Computer Programmer Alan's BHR experience…
Hello, I've just got back from four days in the Scottish Highlands having done around 3,000 feet of rock climbing and 10,000 feet of walking up and down mountains. I'm pleased to say that I have no aches and just a little stiffness. This is a far cry from 6 years ago when I would go hill walking and suffer for the pleasure, or when a quick trip to the shops became an ordeal due to aches in my left hip.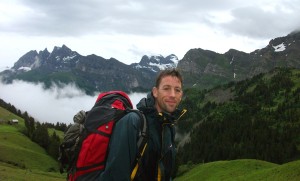 Around the age of 13 I started getting an ache in my hip whilst cross country running. X-rays revealed I had a shallow hip joint, the consequence of which is that the hip moves around in the socket a lot more and there is increased wear on the cartilage within the joint. At the time of this diagnosis the traditional hip replacement seemed to be the only surgical treatment available. This had a major drawback because, as a young adult, a full hip replacement had very little chance of lasting my lifetime. The upshot was that I put up with the increasing aches and pains in my hip until I reached my 40s. Although this increasingly limited the hobbies I could take part in, it never stopped me being active. A couple of personal achievements for me were climbing Mt Blanc and cycling from Lands End to John O'Groats. In fact cycling increasingly became a passion as it caused relatively little pain and in 2000 along with a friend, I won the National Mountain Bike (MTB) Orienteering Men's Pairs category.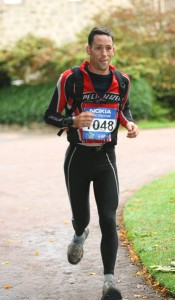 Approaching my 40s, it became increasingly apparent that I needed to get some medical assistance with my hip. I was walking with a very pronounced limp and the wearing away of cartilage in my left hip had resulted in my left leg being shorter than my right which had a knock on effect of pains in various muscles and tendons round my knees, which were trying their best to compensate. I had been aware of the Birmingham Hip Resurfacing for a number of years and considered this a possibility when I arranged an appointment with my GP. However, in this respect I feel I was very fortunate because my GP had just had his hip resurfaced by Mr McMinn and as a result was fully up to speed on the medical advancements made in hip surgery, along with the pros and cons of hip resurfacing. He consequently referred me to Mr McMinn for a consultation and around six months later Mr McMinn and his team resurfaced my hip. I was 41 when I had the operation and I'm now approaching 48.
Time always fades the memory but some things remain clear. I recollect my concern when shortly after the operation, still under the side effects of the anaesthetic, my operated leg now seemed longer. Other memories include the indelible arrow drawn on to my leg pre operation, the joy of my first shower after the operation, the pleasure of not having to wear a surgical stocking and, the speed with which mobility returned. As this is the only operation I've had I can't make comparisons, however, I'm left with the clear impression that I was well looked after. It's not any thing specific but rather lots of small things adding up and in particular the post operation care.
As a measure of how quickly I recovered from surgery I was back on my bike after about 6 weeks and whilst admittedly a first ride of around 3 hours left me a bit tired, I very rapidly gained my previous level of fitness. The following year I won a regional mountain bike orienteering league for over 40s. Since then I've won the over 40s class in the Polaris Challenge which is a national 2 day MTB orienteering event and have competed with my daughter in local MTB orienteering events where we frequently were top mixed pair.
Around three months after the operation I walked up Ingleborough (one of the mountains in the Yorkshire three peaks challenge). I also completed all the walks in a local guide book within a year, which included walks of up to 20 miles in distance. Since then I've done a number of backpacking trips including the GR20 trail in Corsica and the GR5 from Geneva to Chamonix – which I did last year with my two daughters. I'm also working my way through the Scottish Munros (Mountains over 3,000 feet) having done 40 so far this year.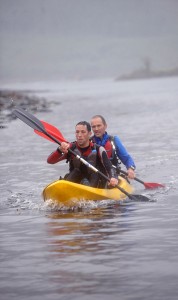 A couple of years after the operation I started doing a bit of running and competed in the Microsoft Challenge, where our team won the financial companies category (teams from companies compete over 3 days doing various physical and mental challenges). Two years ago I competed in one of the toughest things I've done which is the Nokia Coast to Coast challenge between Nairn near Inverness and Glencoe. This involved a 7 mile run, a 48 mile cycle on roads, a 1.5 mile canoe on Loch Ness, a 16 mile off road cycle and a 17 mile on road cycle into Fort William, then a 14 mile run with around 2,000 feet of accent which went part way up the side of Ben Nevis and, finally, a 1 mile canoe across the sea loch to Glencoe. Of the 1,000 starters I was placed 19th and of approximately 200 competitors doing the challenge over 1 day I was placed 10th. In honesty at the time I had no idea how well I'd done and the mile walk from the finish to where we were spending the night was almost as tough as the event!
Over the last 2 years I've also completed a couple of half marathons in under one hundred minutes which I consider quite a respectable time for some one who's only recently started running. The pressure was there last year to compete in the coast to coast challenge again but instead I dodged the challenge by entering an Olympic distance triathlon that was on at the same time. I finished 24th out of nearly 700 starters and was placed first in the 45 to 50 category.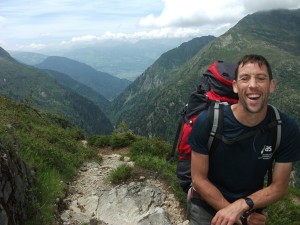 The reason for me writing this blog is not to give a biography of personal achievements but rather, I want to give a clear impression of what levels of activity are possible after hip resurfacing. Asked if I made the right choice to have my hip operated on – the answer is "yes". However, this is only partly due to what it has allowed me to do in sporting terms. It's mainly because I now have so many more happy memories. Memories from 4 family skiing holidays, memories from walks with my family and friends – varying from challenging back packing trips to summer strolls to the pub – memories of mountain bike rides again with friends and family and memories without the background of a constant aching hip. For these, I'm very grateful to Mr McMinn and his team.