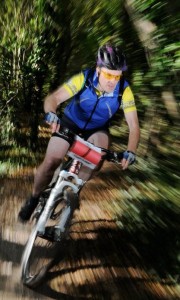 Financial Advisor Peter and his Bilateral BHRs…
In 1996, at the tender age of 40, I was referred to an orthopaedic specialist by a sports injuries consultant, who suspected there was a problem with my 'groin strain' that wasn't responding to treatment. The x-rays showed both hips were shot to pieces.
The specialist suggested that I was much too young for a total hip replacement (THR), perhaps in 10 years time, and should live on anti-inflammatories until then. On asking how active I could then be, he suggested I could play golf, perhaps gentle tennis and the prosthesis could last 25 years if looked after it carefully. Golf… gentle tennis? What about squash and running, what I called 'proper' exercise?
I pulled out the crumpled article from the Times on Sunday that I'd cut out some months before and asked, "What about this new procedure, the Birmingham Hip Resurfacing?" The response was less than complementary about the procedure and Derek McMinn. Fortunately, I refused to take this at face value and a year later, when the hip was really playing up, I arranged a consultation with Mr McMinn.
What a contrast. From the slick-talking, sharp-suited orthopaedic surgeon who arrogantly dismissed the BHR, to Derek McMinn – a dour Irishman of modest stature, balding, a tad overweight, but who exuded total confidence in his product.
The conversation went along the lines of:
Me: "What can I do with the hips after the operation?"
Derek: "Hammer them!"
Me: "Excuse me…?"
Derek: "Hammer them; the more you use them the stronger they will become… I don't recommend you parachute or bungee jump, but just about anything else is fine."
Well, I'd already jumped out of a plane and off a cliff with a rope attached, so was excited at the thought of getting back on to a squash court and a bike again. I deferred the operation on the left hip until 1999 and the right hip a year later. You know when the time is right. Derek left that decision to me, but the defining moment was when I woke at night crying in agony at the pain in my left hip.
After both operations the recovery process was enjoyable, simply because there was no longer any pain from the hip and my range of movement improved by the day. 6 weeks after the 2nd hip was resurfaced, I went on a winter hike in the Lakes and we got lost and ended up walking 15 miles in ice and snow. I needed crampons! However, there were no ill effects at all. I followed the post-op exercise regime religiously and am sure this was of great benefit in the recuperation program.
To say the operation was life-changing is no exaggeration. Before the operation, I could not get onto a bike or even over a stile without enormous difficulty. 2 years later, I cycled the Grand Canyon off-road. 250 miles over 5 days, in up to 40°C of heat. I resumed squash and played again at team level, and also took up tennis, although there was nothing "gentle" about it!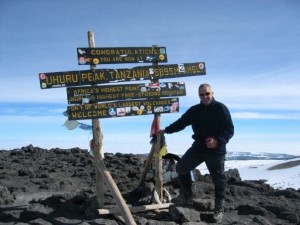 I have since passed my motor bike test and ridden my Ducati all over Europe on several occasions. I've ice-climbed in Scotland, mountain biked in the Dolomites and climbed Kilimanjaro, almost 20,000 feet high.  The latter was a major achievement because of the altitude, we climbed the final 4,000 feet at night as the slope is more stable when it's frozen, in fact it was around -20°C to -25°C with the wind chill factor, effectively working on only one lung. Needless to say, the hips didn't miss a beat.
It has reached the stage where I don't even think about the hips as a potential bar to any activity, simply because they are not! The only side effect is I suffer from is a trochanteric bursitis on my right hip, so it becomes painful to run after around 5 miles. After a steroid injection it eases, but I've decided not to do a marathon for now. There's plenty of time ahead!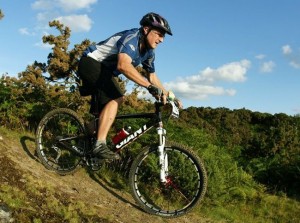 My major sport is now mountain biking, and I've entered several 24hr races, usually a relay team of 4, riding 1 hour stints, so around 6 hours on the bike, on tough courses in race conditions. The 4:00 am stint is not pleasant, and being attacked at ankle level by a polecat during the night on the trail was a different experience! I have fallen heavily more times than Mr McMinn would wish to know, and hospitalised on one occasion, but 6 months after a shoulder repair, I was back on the trail again.
Back in 1997, Derek McMinn suggested that my BHRs would last forever. At the age of 56 and over 12 years following the first operation, there is no reason to doubt this view.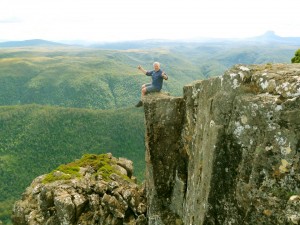 Perhaps I should know better than to carry on with some of these sports, but it's not going to happen for a while. This year, I walked the Overland track in Tasmania, a 6 day trek that I heartily recommend, especially the climb up Mount Ossa.
What I'd say to anybody considering the BHR is just go for it. Life is about now. Today is yesterday's tomorrow and it is much better to have lived and regretted what you've done than what you've not done. Personally, I've absolutely no regrets, even if the BHR failed now, which I know it will not, as indicated by how it reacts now, and also the excellent results from the hips' 10 year check-up.