Chuck McBee travelled from the USA to Birmingham (UK) to see Derek McMinn for a BMHR. Here is his story…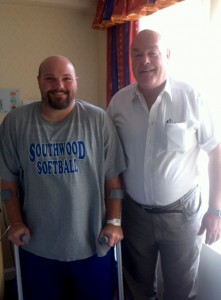 In July 2012, I had a left hip Birmingham Mid Head Resection (BMHR) with The McMinn Centre.  Prior to surgery, I was walking with the assistance of a cane. I decided to seek help from Mr McMinn after my daughter asked me to chase her and I could not. I coach high school men's football as well as women's softball and was unable to be effective as a teacher and coach. I flew from the States seeking Mr McMinn's help and it is only because of him and the entire staff that I have my active lifestyle back and can chase that little girl of mine around the house and on the pitch. I have since told three people I know with similar issues about The McMinn Centre and I constantly praise them to my friends and family.
When I first discovered I needed hip surgery, I was not sure what to do. The only procedure offered to me was a Total Hip Replacement (THR).  I was not willing to go down that route, as I am still young, but luckily the physician here told me about Mr McMinn and the BMHR.  I contacted The McMinn Centre and the rest is history.  In the States, I could have had a Birmingham Hip Resurfacing (BHR), but I was told that there was too much dead bone and it was not recommended. The other option was a total hip, but I was really concerned about being able to continue coaching and playing with my daughter – something that might not be possible after a THR. One of my biggest concerns was that I was going to travel 5,000 miles to the UK to have surgery.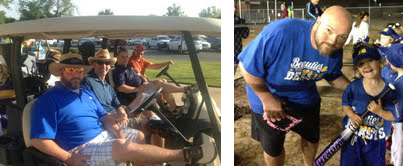 My wife and I arrived in the UK a week early and took in as many sights as possible.  It was as enjoyable as it could be limping around on a cane.  Once I was admitted to BMI The Edgbaston Hospital, I felt like I was at home.  The nurses were friendly and accommodating, the McMinn Centre staff were fantastic and the hospital food was awesome.  The surgery went smoothly and 18 hours later I was walking, WITHOUT joint pain.
I will never forget my experience in Birmingham. I still call The McMinn Centre when I have questions and they are such a pleasure to speak with. I gained two friends while staying in Birmingham, the three of us had surgery on the same day.  Once a month I call Singapore and Wisconsin to see how they are doing and to keep each other updated. I recently played in a golf tournament and spent an afternoon playing paintball – which was great! I would not hesitate in returning to The McMinn Centre in the future if necessary and I am proud to tell everyone about my experience.
Thank you Mr McMinn!
<Back to Joined@theHip Homepage
The BMHR is not FDA approved and therefore can not be used by surgeons and physicians in the US. The McMinn Centre team has vast experience of dealing with international healthcare insurers and providers and helping overseas patients travel to Birmingham for surgery with Mr McMinn. For more information on travelling to the UK for hip surgery with Mr McMinn, please visit our Medical Tourism information page.