University Lecturer Dorothy Hobson's BHR Story…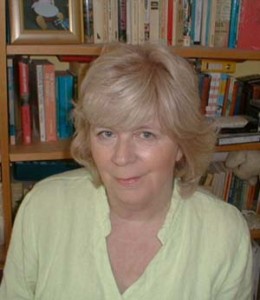 Before I went to see Mr. McMinn, I was in denial that I would have to have hip surgery. I pretended that it was just a twinge and when it became very painful and difficult to walk, I bought a fancy umbrella, which I used as a walking stick to disguise that I had any problem. My GP picked up on my symptoms and sent me for an x-ray and said that she would refer me to a consultant whenever I felt the need to go. Of course, eventually it came to a crisis point and I had to admit the problem.
During that period in spring 2008, my husband had been diagnosed with prostate cancer and this meant that I had to be far more active and where I had avoided certain activities before, I had to do them when he was at his most vulnerable. I knew of Mr. McMinn's work as I had been investigating the different options and I had already decided that he was the only person I wanted to do my operation.
When I had my first appointment he confirmed the need for surgery. We agreed that I would have a Metal-on-Metal Birmingham Hip Resurfacing (BHR) operation and we discussed when would be most convenient for me and that my husband needed to be at a slightly stronger period in his radiotherapy treatment, to do the 'caring husband' duties. Far from being a worry from the point of view of my own impending surgery, the distraction of caring about someone who was much worse off than me and seeing brave men having radio-therapy and chemo-therapy meant that I approached my own surgery with a slightly nonchalant attitude.
However, as the 'Queen of Planning' I prepared for every eventuality; filling my freezer with nice food that could be easily cooked. Clothes were an important part of my planning. Trousers are not really very comfortable to take on and off and with constraining stockings, they are even more restricting. I bought a couple of summer and autumn skirts, mid calf length and these proved to be easy and comfortable for every occasion. Flat shoes which were also essential and handbags to carry across my body. After major surgery every girl needs a new handbag! These decisions may seem frivolous but they made such a difference to recovery when I felt ready to do anything I wanted.
The experience of surgery was all very good. Nothing was as bad as I had expected – but I had anticipated the worst! At the BMI Edgbaston Hospital, Birmingham Mr. McMinn's team was caring and efficient. I remember everything about my surgery and recovery. The worst part was muscle spasms down my body, but re-assured by the physiotherapy team that this was my body reacting to the trauma which the operation had caused meant that I did not worry and they disappeared after the first day. Moving about on the hoist was a bit of an adventure and when the physiotherapists praised my ability, it was a rare moment of pride in physical prowess, which has never been my forte.
There was no problem with my scar. The nurse at my GP's surgery was so impressed with Mr. McMinn's scar and staples, that she asked if she could invite one of her colleagues in to see what she called 'such beautiful work'. I took a lot of trouble massaging it with baby crème to make the most of his handiwork. Once I got home the adventure continued. We do not have a walk in shower and although I was not quite confident to climb into the bath to have a shower, I was determined to shower every day. We had an Ascot water heater which was located in the garage next to the personal door. I decided to shower there in the small pebbled garden. I sat on a high stool and my husband held the shower head while I washed my hair and conducted all the other necessary ablutions. Friends reassured me that if Google Earth were taking photographs from the air, they would have to pixilate my face if they flew over while I was showering!
As well as my husband another support during my recovery was my loyal Rottweiler, Holly, who never left my side either during the shower time or when sleeping on the floor at the side of my bed. She could lie as if dead while I maneuvered on elbow crutches and she waited incase any unknown danger might attack me.
My main activity, after the daily walks and exercises, which contributed to my recovery, was that I joined the Priory Tennis Club in Edgbaston – only to swim and I swam at least four times a week from a few weeks after my operation. Swimming is the only sporting activity in which I have ever indulged. I have continued swimming and this is still my only real activity. I have never been sporty and it was not to regain any sporting achievements that I had surgery. When I read the protocol of what could be done after recovery, all the activities seemed very male and I did ask Mr. Daniel when I could dance around the kitchen with my granddaughter and he told me that was a very strenuous activity not to be attempted for 12 months. I can now happily dance around the kitchen and the living room as well as do everything else that I might want to do.
What do I want to do? I wanted to be able to shop for many hours and not feel any pain. I can happily shop. I also work full time as a university lecturer and that involves standing to lecture – sometimes for two hours and also sitting at a desk writing for many hours. My hip surgery has enabled me to do all these things and not be in pain and not to have any signs of the surgery.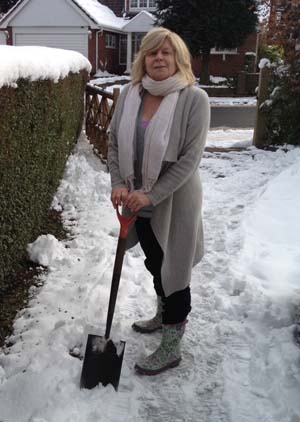 In the last two months I have realized the full benefit of my surgery. At the beginning of December my husband had to undergo a quadruple heart bypass. From my point of view apart from all the sadness and worry there were physical implications. Standing for many hours in intensive care and sitting for seven or eight hours at the side of his bed when he returned to his ward was something that produced no problems. Looking after a post operative patient, means that you don't ask them to do anything – you do it yourself and you do everything you can to help them. I was perfectly able to do anything that was needed and surprised myself with my physical capabilities and stamina.
Having my hip resurfaced was the best decision that I have ever made and the whole experience has been excellent. Here are two photographs of me. The first is in my study where I sit for hours not in pain. Not possible before surgery! The second shows me at my most physical – clearing the snow outside my house – and not even feeling a twinge of pain!
Dorothy Hobson