Ex pro waterskier turned rancher Paul tells his BHR story…
My waterskiing career ended in the jumping event, September 1975 at the World Water Ski Championships near London when upon landing, my left leg hyper extended by some forty-five degrees. I was the favourite to win the jumping event and the combined overall.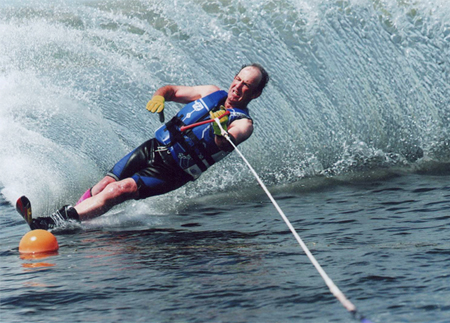 My achievements prior to that were five times (years) overall British Champion, and three times (years) overall European Champion, as well as numerous individual event titles along the way together with breaking the world slalom record in Fort Meyers, Florida in 1972 and the world jump record earlier in 1975 in London, England.
From 1975 to 2002 I limped, was in pain, could only swim and cycle, fell slightly short of ninety degree knee bend and was unable to walk any distance whatsoever without extreme discomfort. I was also taught by a leg amputee to snow ski on one right ski with outriggers. Simple things like Christmas shopping were impossibility for the twenty-five plus years, until my hip and knee were replaced by Mr McMinn.
It is my assumption that my right hip was compromised due to my uneven walk and the need to weight-bear on my right leg at all times when standing – to ease the pain on my left knee. I missed enjoying activities with my children, was unable to participate in any activity that involved walking or standing, and basically lived in pain day and night for twenty-five plus years. I was the British team manager for several of those years and, in order to fulfil the role, always took a folding bicycle around the UK and overseas. During that period in my life I did find it hard to concentrate and function to my potential due to the permanent pain. I did not enjoy any activities.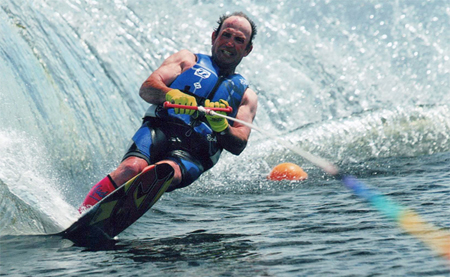 During the twenty-five years following my injury, I visited many consultants around the world regarding my knee but by 1990 the hip had become the bigger problem. There was of course a realisation that I required a prosthetic knee and hip. Even though my quality of life was poor to say the least, I was encouraged by my consultant in Calgary, Canada to delay such procedures as long as possible or face complications for the remainder of my life. I was also told that I would never walk without a limp and that more than ninety-degree knee bend was unlikely.
My hip discomfort steadily grew in intensity, eventually taking away my ability to stand for more than a minute or two. In the end I was unable to cope with the pain, which far exceeded that of my left knee. The last flight over from Canada to the UK for the hip operation in November 2001 was unbearable. My BHR surgery was on Friday 16th and by the morning on Sunday 18th I was in less pain than before the operation.
The first I heard about the BHR was from my Chartered Accountant. He knew a water skier considerably younger than I who'd had the BHR. In time I also learned that the brother of a very good friend of mine had the BHR in both hips at the same time. I spoke to both, the latter being a doctor himself, and was then satisfied this was a potential route for me.
I cannot clearly recall exactly how I came to approach Mr McMinn. Being an overseas resident I was not tied to any region and learned that Mr McMinn himself was available for a consultation at relatively short notice.
His manner was most agreeable. He spoke in such a way that instilled confidence. He was able to help with both my hip and knee. He dispelled the fears generated by the Calgary consultant by insisting both procedures had every chance of success and that my limp and knee bend would be governed by my dedication and determination during rehabilitation. He suggested I could obtain full knee bend. He recommended that the hip be replaced first and for the operations to be a year apart.
After the 2001 BHR I religiously followed the rehabilitation program to a T. For the next ten months I gradually became completely pain free in my right hip and it functioned normally to the point where my only discomfort was my left knee.
On 8th November 2002, Mr McMinn performed the knee replacement surgery. This was a far greater test, but again I had a disciplined approach to the rehabilitation programme. I had great difficulty obtaining knee bend and Mr McMinn insisted that I obtain ninety degrees. I was only able to achieve some eighty to eighty-five degrees. I insisted I would achieve the ninety degrees and that I was committed to reaching full bend. It ended up being the greatest challenge of my life.
Once home in Canada, I sat on the end of a table, rigged up an ankle sling attached to a rope that was fed underneath, then around the opposite end of the table and back over my shoulder, in front of which I held the other end. I would then force the knee towards straight from the bend I had, but would resist with the rope. When I released the quadriceps pressure, I would pull on the rope so my knee bent a degree or two more. Once I finally surpassed the ninety degrees, the remainder of the bend was a walk in the park. I still to this day have full bend.
My expectations were no more than a better quality of life with less pain and an ability to do 'a bit' more than I had been able to do since my injury in 1975. The reality is that I can do almost anything. Naturally, I am governed by my sixty years of age that deems it ill advised to pick up where I left off all those years ago and I make it my business to improve fitness before undertaking any demanding activity. I walk with no limp and can do so indefinitely. I had to learn to run again and can do so in short stints to chase a baseball or catch a train/bus – I do not run for exercise. I can kick a soccer ball with my BHR leg and can do so more gently with my knee replacement leg. I can water ski again. I can snow ski on two skis again, black runs and all. I have actively worked cattle on our ranch since the knee replacement – sometimes remaining on my feet all day. I no longer have an excuse to avoid Christmas shopping. I can even help people move house.
I am in no pain day or night. I even have to concentrate in order to determine which is the false hip and which is the false knee. I am a considerably fitter person, which my doctor tells me will on average extend the length of my life. In fact I am healthier, fitter and more active than most acquaintances of my age.