Lisa Cook tells Joined@theHip how her wishes for walking down the aisle in heels for her Las Vegas wedding were fulfilled, thanks to Mr McMinn performing a Total Hip Replacement (THR) in 2013…
In 2012 I was diagnosed with severe osteoarthritis of the left hip and was told I would eventually need a hip replacement. This was not an operation I wanted, so I made do with steroid injections. My doctor had pointed out that I was a very complicated case and it was an operation he would not be looking forward to performing.
The injections didn't help for long and my hip deteriorated further. In August 2013, I was now struggling to get about the house because the pain and crunching was so bad.  As surgery was still a definite NO for me due to the lack of confidence in my surgeon AND a dreadful fear of hospitals, my future was looking grim.
One day I e-mailed The McMinn Centre to ask the advice of Mr McMinn as he had previously operated on me when I was 18. He is an expert with hips; he has developed his own methods and travelled around the world performing and researching techniques. I was sure he would know what to do and he was the one doctor I trusted.
An appointment was arranged and I finally got to meet him again. It was 23 years since I had met him and he had not changed; he was still as great as I remembered. He arranged x rays and looked at my MRI scan, confirming that I would need either a Birmingham Hip Resurfacing (BHR) or a Total Hip Replacement (THR). I already knew he was the only man for the job and now he was agreeing to perform my hip surgery. I can't tell you what a relief this was to me and my family. I just knew with Mr McMinn as my surgeon everything would be okay. I even discussed my pending family holiday to Las Vegas the following year to get married. I was worried I would have to spend most of the trip in a wheelchair and told him of my wishes to walk down the aisle in heels – something which I had not been able to wear for a long time. He assured me I would not need a chair and would have a fabulous time in Vegas. I left the hospital feeling very lucky and optimistic.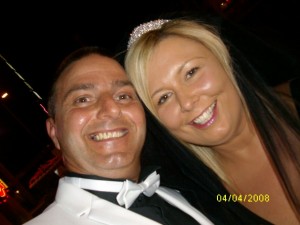 I went into BMI The Edgbaston Hospital on 22.10.13. I was virtually unable to walk at this point. I was very nervous and having panic attacks because of my fear of hospitals. All the staff and Mr McMinn's team were wonderful and made me feel less anxious. I was determined I was going to walk my last steps on my old hip to the theatre. I was assisted by a lovely nurse who later confessed she did not think we would make the walk to theatre as I was so bad. The theatre staff were amazing and I was quickly put under anaesthetic to minimise my stress.
It was a complicated operation but totally successful. I had a Total Hip Replacement as this was the best option for Mr McMinn to correct all of my hip problems. This was an added bonus I had not expected as he had even managed to lengthen my leg so both legs were now the same length.
I stayed in hospital for 4 nights. All of the staff there were lovely and nothing was too much trouble. I saw a physio daily and I slowly learnt to walk again pain free. After the initial discomfort of the operation I can honestly say I did not experience any pain. For the first six weeks I could not bend my hip past 90 degrees which meant I could not sit on a low chair and had to use crutches. I was encouraged to walk as much as I could to keep my new hip moving and avoid it becoming stiff. As it was winter time and the weather was cold and damp. I used to get my husband to drive me to local shops daily and I built up my walking aisle by aisle until I could walk around a large supermarket. Then a few weeks before Christmas I managed to spend a whole afternoon walking around Merry Hill shopping centre – something I had not been able to do for so long.
I am not usually a person who follows instructions and does as they are told but on this occasion I followed Mr McMinn's instructions and did everything I was advised by my physio. My husband jokes still that Mr McMinn is the only man he knows that I listen to and would love to know how he manages it! I just felt so lucky to have been given this chance and I was not going to do anything to put Mr McMinn's hard work at risk.
To get the best from my new hip, Mr McMinn recommended I carry on walking and also start swimming and arranged to see me in 12 months time. I am not a keen swimmer so reluctantly started swimming. I could not believe how much it actually helped and after a few weeks the range of movement I now had in my hip was amazing. I had not had this much movement for as long as I could remember. As the weeks progressed, so did the daily tasks I was able to perform such as putting on a sock and plugging in an iron. This may sound basic but I was very excited about it as I had been unable to do these basic things for so long. I was now getting my life back which meant I was now able to get ready for my wedding in Las Vegas.
On the 22nd May 2014 we began our trip to Vegas, I was a little worried that being sat on the plane for so long would cause me some discomfort and stiffness however despite not moving for several hours I did not experience any pain or discomfort which was great.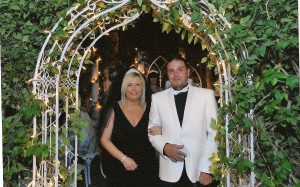 I got married on the 24th May 2014 – in heels! It was an evening wedding in an outdoor garden at one of the Chapels. As usual I was running late (literally!) We left our room at Mandalay Bay hotel 5 minutes late to meet the limousine driver, forgetting just how big the hotel was. I had to race in my dress and heels with my dad and bridesmaids down to the lobby. The trek across the hotel took 10 minutes and included escalators. Thankfully we did not miss the limousine and we made it to the chapel on time with a totally pain free hip.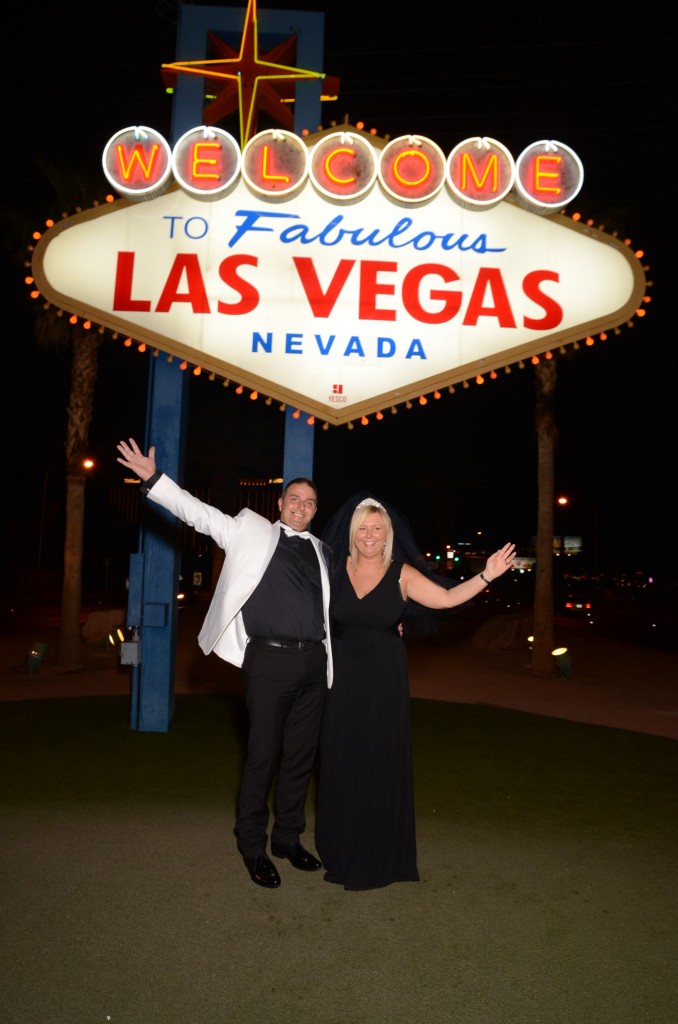 I can't tell you how grateful I was to be walking down the aisle in heels not in a chair. We had photos at the Las Vegas sign and a meal back at Mandalay Bay. It was such a wonderful night made possible by the McMinn team.
The rest of the holiday was fantastic, Vegas involved lots of walking but thankfully there were plenty of bars for a quick rest and a beer. There wasn't anything I couldn't do in Vegas but I was a little concerned as to whether to go on the roller coaster around the New York New York Hotel. It was huge and I didn't want to damage my hip. Not wanting to miss out, I waited until the end of the holiday to go on it… twice! My hip was about the only thing that was okay! I came off speechless it was that scary, but I was so glad I managed it.
Sadly we had to say goodbye to Las Vegas and return to the UK. Once again the long flight had no effect on my hip. I have continued swimming and walking and am so happy with my new hip. It was an operation I had feared for a lot of years but thanks to Mr McMinn and the team it was not nearly as bad as I imagined. I was looked after so well by everyone involved. I was given my mobility back and I can't thank Mr McMinn enough.
- Lisa Cook.
Thank you to Lisa for sending Mr McMinn and the team a postcard from Las Vegas, we really appreciated it!