P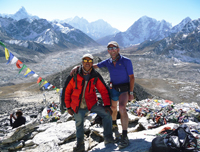 eter talks about his many sporting achievements, including completing the 2011 Everest Marathon…
I first decided I wanted to run the Everest Marathon because previously, in 2007 I ran a marathon and rode the first ever bike marathon on the ice cap at the North Pole. Later that year I also ran the ice marathon at Antarctica. I finished 5th and 3rd place respectively. My plan was to complete the Grand Slam (7 marathons on 7 continents), only I wanted to do it slightly differently and do 7 extreme marathons, preferably on fell or mountain. Then of course trouble was lurking around the corner… arthritis of the hip. It seemed to run in the family a bit, so in December 2008 I had a Birmingham Hip Resurfacing by Mr McMinn. After three weeks I started more rehab, I have qualifications in sports massage and sports injuries, so my knowledge came in handy. It wasn't plain sailing though as, when I started back to running hills after 7 months, which was a bit too early, I suffered minor strains etc.
I have since progressed and went back to racing in February 2011. After seeing that I was becoming competitive again and running more and more, I gained a class win overall for a grand prix series of mountain races, which is when I enquired about the Everest Marathon. I got a cancellation place and the rest you can see in the photographs! I entered the race as I was afraid I may not have another opportunity of being at the peak of fitness. What I'm really saying here is I live life for today – not for a later day that may never come – almost on impulse and, if it's possible, I usually fulfil my passions. As Mr McMinn said to me – 'you could put this operation off for maybe 5 years,' as the arthritis was early. My response was – 'I could be dead' and I wanted to live my life to its full potential and not wait for a day that may never come.

Mr McMinn has made many things possible in my life which I will never forget. My main competitive sport is mountain running which I do twice a week. Alongside that my main training is on mountain bike at least 3 times per week (in winter months I do local forest parks and trails at night with specialist lights). After that I generally manage about 100 miles on road bike. I also partake in venture racing (run-cycle-kayak). I am also competitive on the bike and am part of a club. I am club chairman of our local running club and do a Saturday session at our local hills-bike and run, my two passions! I also do a little windsurfing when I get the chance. As you can tell, I rarely sit down! I also enjoy motor homing and own several classic motorcycles and cars.
Although before the operation, I had pain only on sporting activities, I could see what was developing and it was becoming quite severe – taking days to recover from. The mind set of an athlete is quite different to non-sporting individuals. When training and racing we're on a high and very focused and anything that gets in the way of this lifestyle has to be addressed – like arthritis! Therefore to be able to have a hip resurfacing, which performs close to the human hip – and believe me, I've tested it at the Everest Marathon – is simply genius. I am now living life to the full and fulfilling those dreams my previous consultant and my GP said I would never be able to do.
Thanks for that, Mr McMinn and team.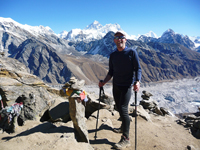 I work as a small specialist conservatory and lantern roof manufacturer and installer and I'm pretty busy. I only work on site doing a little of most trades such as bricklaying, plastering, joinery and glazed roofing. I'm active and on my feet all day and able to carry on with my work just as well as my pre-arthritis days.
I try and look after myself well and have addressed things like diet, foods and supplements to aid arthritis and daily muscle strengthening regime, especially core and all muscles around the hip. Also of importance, I endeavour to minimise the weight I carry on my joints, for example I have adapted wheelbarrows from 1 wheel to 3 wheels, so I only push and don't bear the full weight of the load. After all, there is no point putting yourself and your hip under any more stress than is needed! I have a sports massage once a week and if I overdo it – like a muscle or tendon strain around hip – I allow it to rest and heal properly before working it again.
Watch Peter in action in the YouTube video below: